CASE STUDY
Improving Public Health through Childhood Immunization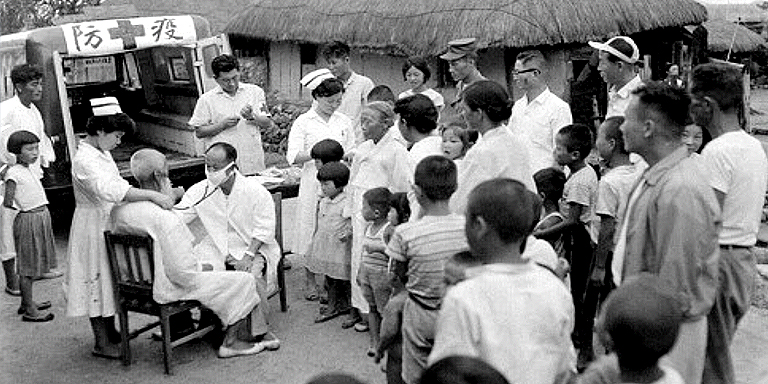 Published:
12 February 2020
The immunization campaign for children in the Republic of Korea after the Korean War took years of strategic planning and implementation that included health education and legislation.
Overview
The Korean War from 1951 to 1953 destroyed the public health system along with the broader socio-economic system. It was at this point that the Republic of Korea started rebuilding and modernizing its public health system.
The country placed childhood immunization at the core of its health program to not only stop infectious diseases from spreading but also help infected patients avoid sequelae or physical or mental conditions caused by a prior disease. Despite an insufficient public health infrastructure, the early immunization program was successful due to the efficient implementation of technical support from developed countries; systematic distribution of public health branches and health workers throughout towns; and mobile mass immunization.
This article is adapted from the report, Korean National Immunization Program for Children in K-Developedia, an initiative of KDI School of Public Policy and Management.
Challenges
Controlling acute and chronic infectious diseases and providing family planning services were the most urgent public health needs after the Korean War. There was a sudden increase in patients with hepatitis, epidemic hemorrhagic fever, typhus, smallpox, and diphtheria.
Also, various infectious diseases such as dysentery, typhoid, cholera and polio Japanese encephalitis, polio, and measles occurred year after year and the deaths caused by these diseases were difficult to control given the insufficient infrastructure.
The demand of the general public could not be met because there were no regular immunization services available. People could rarely access public health clinics due to the shortage of clinics and limited transportation. There were no doctors and other medical personnel in many areas, as well as insufficient awareness and knowledge of immunization and its importance.
Solutions
The central government set regional immunization goals and addressed issues on infectious diseases, and the absence or lack of doctors in towns, especially in rural areas.
Family planning personnel were placed in every town and sub-county to tackle the high crude birth rate and the high crude death rate as well as promote the immunization program through health education. They also administered immunizations for infectious respiratory diseases in children.
During the months when infectious diseases spread (e.g., cholera and typhoid in the summer), immunizations were carried out on a large scale at bus terminals, trains, markets, and other public places.
The absence of doctors in many areas was a major concern during the 1960s and 1970s. The government appointed physicians to each town and sub-county.  A private practitioner was assigned as the community doctor and the director of the community health clinic during the 1960s to the 1980s. Doctors, oriental medicine doctors, dentists, pharmacists, nurses, and other experienced health professionals were chosen and given short-term training by the local health director so they could be hired as staff in locations where no medical staff had worked previously.
Regulations and programs were enacted to alleviate the conditions in rural areas where no doctors were present. These include a 6-month specialized residency training program in health institutions in rural areas and issuing of medical licenses to students who failed the state medical examinations if they worked in a rural area where there were no medical personnel for 2 years.
Scholarships for health care personnel were also granted. In 1980, the Act on Special Measures for Rural Health Care was enacted, which has supplied public health doctors to health care centers and their branch offices until today.
To determine and maintain precise immunization rates and the timeliness of immunization, every individual's immunization record was registered and accessible in real-time for use in succeeding immunizations. The Korea Centers for Disease Control and Prevention developed a program to computerize and manage all records and has been promoting the National Immunization Registry Information System (IRIS) since 2002.
Since December 2010, Korea Centers for Disease Control and Prevention has provided an SMS reminder for the children of families who have registered in the immunization registry system and agreed to receive SMS messages. If the immunization record for children aged 0 through 12 is updated in the registry system, the next immunization date is automatically calculated, and the parent or guardian is informed by SMS.
Results
As a result of the aggressive immunization campaign, no areas have been without doctors since 1983. Physicians working in health centers provided preliminary checkups and adequate health counseling for those who were receiving immunizations. Currently, there is one doctor and one or two public health staffers at every health care branch.
The number of public health centers has grown to 254. At the same time, 7,000 other medical institutions now offer immunizations with the cost directly or indirectly covered. As of 2012, 11 required immunizations were offered.
The required national immunizations are free at public health care centers. For other immunizations in some public health centers, the individual should pay for the cost of the vaccine only. As of 2012, around 30% of immunizations are now offered at public health centers.
Lessons
Improving the immunization program entailed a wholistic approach. First, the government came up with a vision and goals for the program. It put in place the National Immunization Registry Information System. It also provided systematic training of the workforce in public health centers and private medical institutions. Private medical institutions started to participate actively in the National Immunization Program in order to improve their qualified immunization coverage rate. The government also introduced the immunization reminder SMS service.
Resources
K-Developedia. Korean National Immunization Program for Children
S. Lee, et. al. 2013. Korean National Immunization Program for Children. KDI School of Public Policy and Management. Seoul.
Leave your question or comment in the section below:
---
YOU MIGHT ALSO LIKE
---
---
Disclaimer
The views expressed on this website are those of the authors and do not necessarily reflect the views and policies of the Asian Development Bank (ADB) or its Board of Governors or the governments they represent. ADB does not guarantee the accuracy of the data included in this publication and accepts no responsibility for any consequence of their use. By making any designation of or reference to a particular territory or geographic area, or by using the term "country" in this document, ADB does not intend to make any judgments as to the legal or other status of any territory or area.
---
Was this article useful?
---