CASE STUDY
Enhancing Work Skills of Young People in Sri Lanka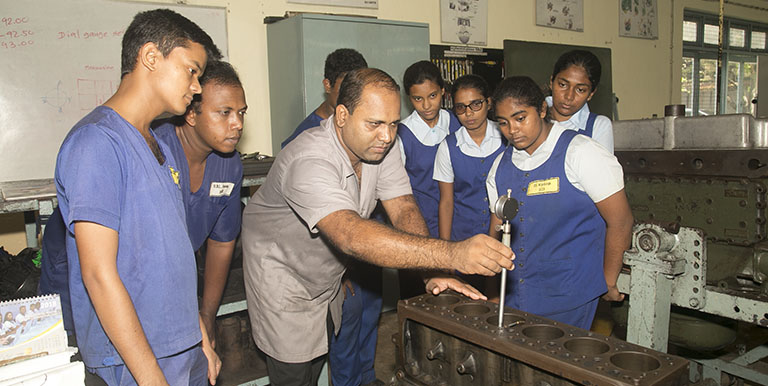 Published:
16 December 2019
A results-driven project is closing the skills gap through sector-wide reforms focused on improving technical and vocational education and training.
Overview
A wide gap exists between available skills and market demand in Sri Lanka. Many of the country's youth leave the formal school system without employable skills because their access to middle level skills training and entry-level skills programs is inadequate. This is compounded by the low market relevance of technical and vocational education and training (TVET) in the country.
As a result, there is high unemployment rate among the youth (21.6%), particularly women (26.6%). Skilled labor is also wanting. The country already has the lowest labor participation in South Asia, and the shortage of skilled labor is aggravating the situation. Enhancing the quality and relevance of TVET can help solve the problem.
The Skills Sector Enhancement Program, supported by the Asian Development Bank's (ADB) results-based lending program, is helping provide the impetus to improve and ensure the effectiveness and efficiency of Sri Lanka's sector-wide reforms.
Project information
Project snapshot
March 2014: Approval date
December 2021: Closing date
US$865.9 million:Total Project Cost
US$520 million :Government of Sri Lanka (counterpart financing)
US$203 million :Government of Sri Lanka (financing)
US$15.40 million :Germany (financing)
US$101.5 million :World Bank (financing)
US$26 million :Export-Import Bank of Korea (financing)
Financing

Export-Import Bank of Korea
Germany
Executing agency
Ministry of Industry & Commerce, Resettlement of Protracted Displaced Persons, Co-operative Development and Vocational Training & Skills Development
Challenges
Every year, more than 320,000 students in Sri Lanka become available for skills training. They have either graduated or dropped out of school. TVET programs however could accept only half of the students because of limited personnel, facilities, and equipment. Students also find that the courses available do not reflect the real demands of the labor market. The quality of TVET courses leaves much to be desired. There are few middle-level skills training programs, and delivery options are limited. More qualified instructors are needed.
Context
Sri Lanka has high enrollment rates for both primary and secondary education, a high adult literacy rate, and gender parity in access to education. Yet, many graduates are not trained for the jobs available in the market.
When the project started, the country was ranked 62nd out of 148 countries by the World Economic Forum in terms of the quality of higher education and training. But when it came to labor market efficiency, it was 135th.
The Sri Lankan government is confronting these challenges head-on through its Skills Sector Development Program, its first sector-wide, medium-term development program. It envisions a TVET sector that is efficient and ready to meet rapidly evolving labor market demands by 2020.
Solutions
The TVET program is cofinanced by ADB, Export-Import Bank of Korea, Germany, and the World Bank through results-based lending where disbursements are linked to the achievement of results (project indicators or milestones) rather than to upfront expenditure. Focusing on results helps ensure that the objectives of the program are met, and that there is accountability. These traits are critically needed in far-reaching, sector-wide reforms to improve the TVET system in a sustainable manner.
The program has four components.
Results
The number of TVET centers with a quality management system has increased to 15% in October 2017 from less than 1% in 2013. The share of NVQ-accredited training programs also grew from only 13% in 2012 to 66% in 2016.
There are more TVET instructors in the country. Vacancy ratio fell to 30% in 2019 from 44% in 2014. Cadre positions in TVET increased to 4,213 in 2017 from 3,418 in 2014. This is projected to grow more as the government further intensifies its recruitment efforts.
The project successfully established eight university colleges. Together with the private sector, these colleges offer diploma-level training programs in construction, health sciences, and information technology. Along with the stipend program, these colleges widened access to TVET and has helped increased enrollment and completion rates in the country. In 2017, student enrollment in TVET programs reached 214,295[1] from 23,002 in 2011. At the end of 2016, 68% of students completed their training.
All these results have helped increase employment in the country, with a growing number of TVET graduates being hired even before the project was completed. From 50% in 2012, employment rate increased to 57% in 2015. Latest data also showed that within 6 months of graduation, 69.6% of NVQ course graduates landed jobs.
Additional financing was provided to help Sri Lanka continue the program through 2020.
Lessons
A significant achievement of the project is how it helped stakeholders to stay focused on results. This results-based orientation, as opposed to a transaction-based one, has incentivized stakeholders to overcome barriers in reaching their targets. It has allowed them to be creative in meeting labor demand. This is illustrated by how they linked up the courses to companies that need the skills that the courses provide and how they prioritized courses to offer according to what the labor market really needs.
Aside from upgrading TVET services, the program also created a performance allowance scheme for instructors and a performance-based financing mechanism for selected training centers. These schemes help ensure that TVET reforms will be continuous and sustainable.
---
Resources
Asian Development Bank (ADB). Sri Lanka: Skills Sector Enhancement Program.
ADB. 2014.  Reports and Recommendations of the President: Proposed Results-Based Loans to the Democratic Socialist Republic of Sri Lanka for the Skills Sector Enhancement Program. Manila.
ADB. Sri Lanka: Skills Sector Enhancement Program—Additional Financing.
ADB. 2018. Reports and Recommendations of the President: Proposed Results-Based Loans and Administration of Grant for Additional Financing to the Democratic Socialist Republic of Sri Lanka for the Skills Sector Enhancement Program. Manila.
Leave your question or comment in the section below:
---
YOU MIGHT ALSO LIKE
---
---
Disclaimer
The views expressed on this website are those of the authors and do not necessarily reflect the views and policies of the Asian Development Bank (ADB) or its Board of Governors or the governments they represent. ADB does not guarantee the accuracy of the data included in this publication and accepts no responsibility for any consequence of their use. By making any designation of or reference to a particular territory or geographic area, or by using the term "country" in this document, ADB does not intend to make any judgments as to the legal or other status of any territory or area.
---
Was this article useful?
---