INSIGHT
Using Digital Technology to Reach the Unbanked in Southeast Asia
Insights
The need for regulatory support
Since much of the digital enablement will be driven by the supply side, regulatory and public policy actions will play a significant role in creating a favorable environment. There is a need for action in the following three areas.
Supply-side entry barriers
Create a level playing field by allowing collaboration and competition between traditional financial services players and new types of supply-side participants such as mobile network operators.
Suitable solution design and delivery
Develop a "safe space" for businesses to test new ideas in a live environment with more permissive regulations that provide clear guidance on the development and role of agent networks, and allows different supply-side operators to use these alternative channels; and promote low cost and more convenient payment channels and network infrastructure, for example, by advocating and mandating transfer of money between mobile money platforms.
Shared vision
Produce a unified roadmap for financial inclusion to focus the efforts of various stakeholders; and put in place a governance mechanism to facilitate coordination and ensure accountability for action in all relevant government departments.
A digital future?
When all of these elements fall in place in a mutually reinforcing manner, rapid change in the level of financial access and usage can be achieved. The graphic below illustrates how such a digitally enabled solution can take shape in customer identification and verification. The user possesses a universal unique ID that is verifiable with biometric information stored in a public utility database. This is accessed in real time by various service providers via different channels, ranging from agents to fully digital customer-initiated requests. The end result is the ability to extend access to the unbanked/under-banked population by significantly reducing the cost of KYC, customer due diligence and on-boarding processes.
Mapping digital KYC enhancements to product value chains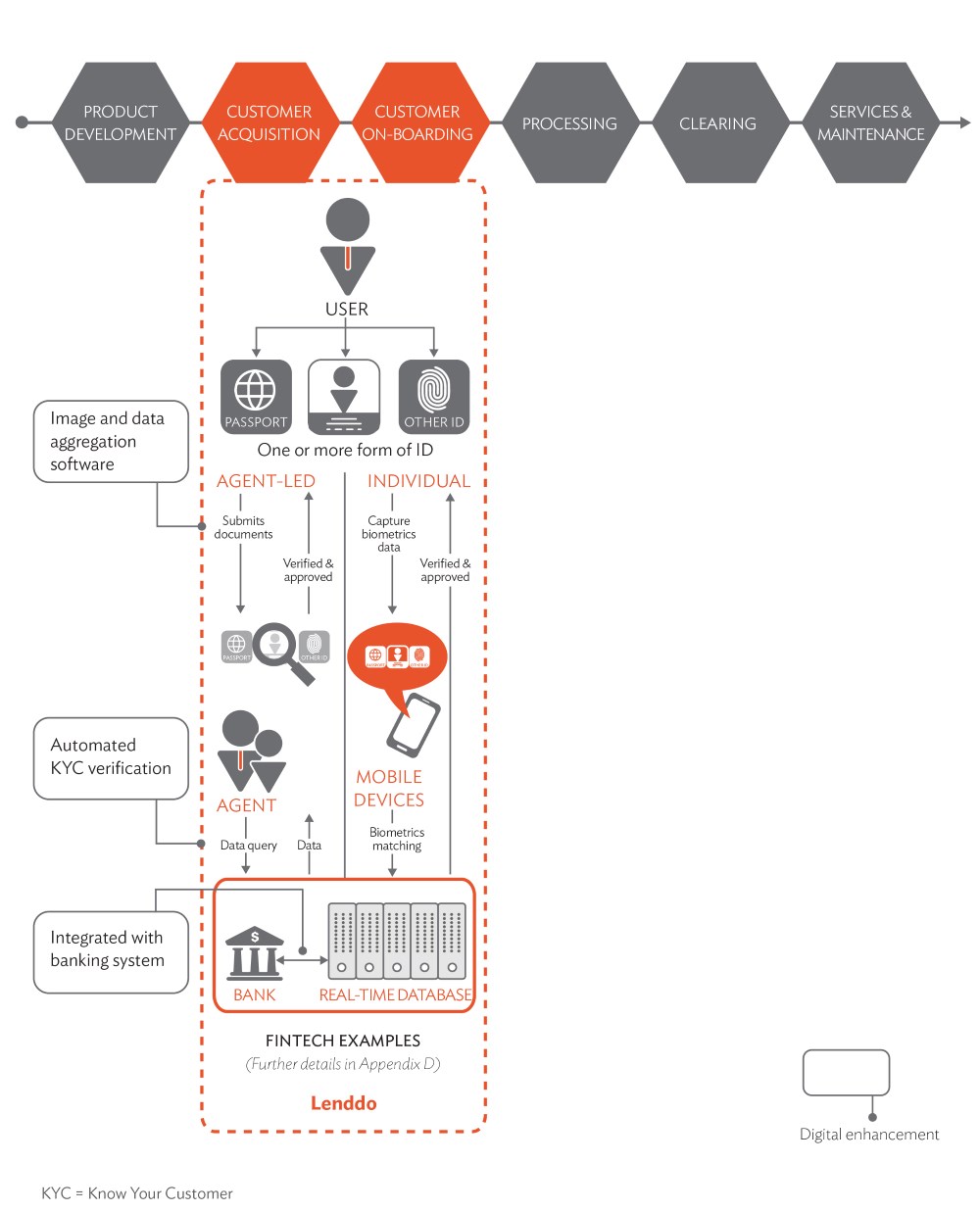 This is not a pipe dream of a digital future. India is a case in point where much of this is now being realized on the back of a universal national ID project (called Aadhaar). Indonesia's national ID program (e-KTP) is also being developed to enable a similar end-state solution.
The opportunity to accelerate financial inclusion through digital finance is clear, and the impact would be significant on both the lives of financially excluded people and the broader economy. Regulators and policymakers have critical roles to play in supporting and enabling this digital innovation.
---
Disclaimer
The views expressed in these articles are those of the authors and do not necessarily reflect the views of the Asian Development Bank, its management, its Board of Directors, or its members.
---
Was this article useful?
---