INSIGHT
Using Digital Technology to Reach the Unbanked in Southeast Asia
Analysis
Banking on technology
The effect of leveraging digital technology to bank the unbanked could boost gross domestic product (GDP) by 2% to 3% in markets such as Indonesia and the Philippines, and by 6% in Cambodia.
Making the most of this opportunity could shape the future growth trajectory of the financial services industry, particularly in smaller markets such as Cambodia and Myanmar, where only a small percentage of the current needs for financial services are met by formal providers.
Digital financial solutions will have the most significant impact on financial inclusion in five key areas:
They can enable fast, low-cost and convenient customer identification and verification processes—especially when powered by unique national identification numbers, a real-time verification infrastructure and supporting regulatory frameworks such as tiered know-your-customer (KYC) schemes.
They can meaningfully alter the economics of the supply side by addressing last-mile distribution and servicing issues through low-cost, widespread, digitally enabled points of physical access such as mobile phones and point-of-sale devices.
They can become prevalent throughout the payments value chain and ecosystem. Digital government-to-person payments—such as employee payments (wages and pensions) and social transfers—and remittance flows can create the initial momentum for electronic payments, thereby supporting the development of viable supply-side business cases. These can be sustained and further developed through person-to-all payment systems (which include all payments made by individuals, including to businesses or the government), combined with interoperable networks and open application programming interface platforms.
They can significantly enhance access to credit by using alternative sources of data, such as payment transactions and telecoms data, as well as analytics. These improve customer profiling, credit risk assessment and fraud detection.
Savings can be mobilized digitally through alternative, lower-cost origination and distribution channels and more-convenient product designs, such as mobile wallets connected to savings accounts and intuitive goal-based savings products. An easy KYC and on-boarding process can also contribute to savings.
The table below provides an assessment of the financial inclusion gap across four focus markets and the potential impact of digital finance across different need categories.
Gap between needs and formal supply in different markets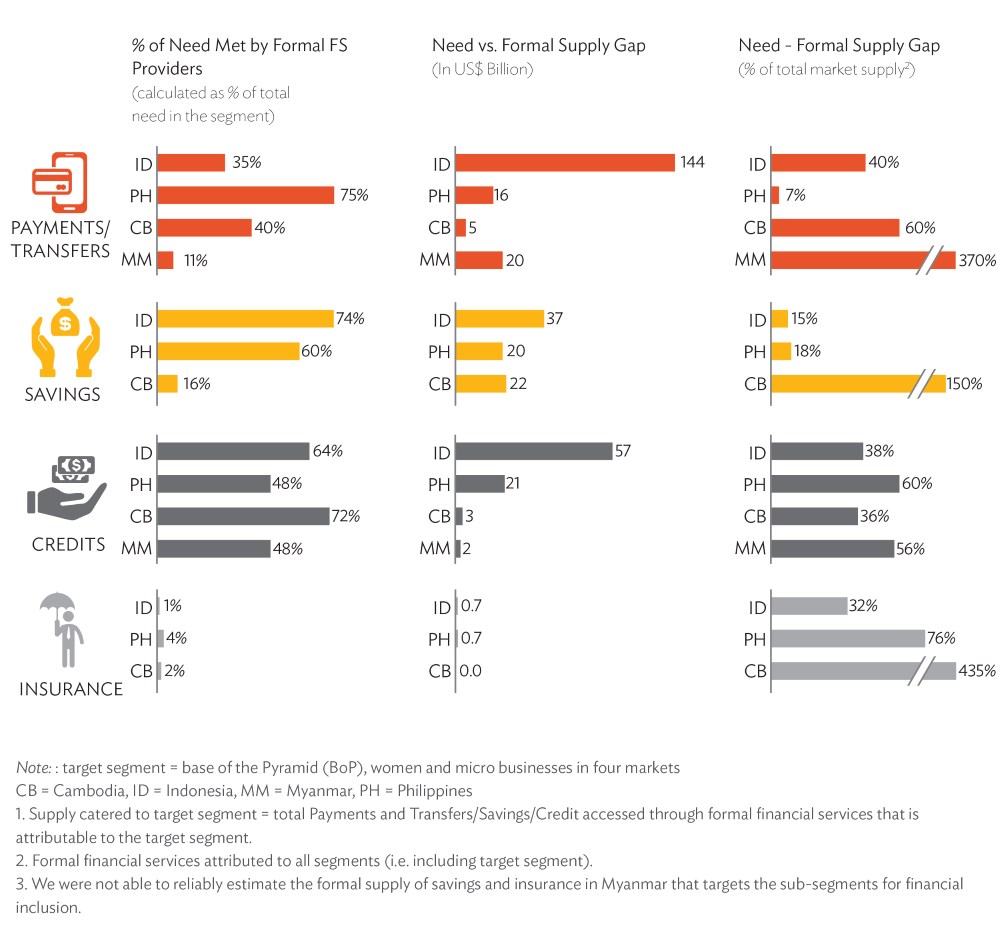 ---
Disclaimer
The views expressed in these articles are those of the authors and do not necessarily reflect the views of the Asian Development Bank, its management, its Board of Directors, or its members.
---
Was this article useful?
---