INSIGHT
Reducing Women's Employment Vulnerability in Sri Lanka Beyond the Pandemic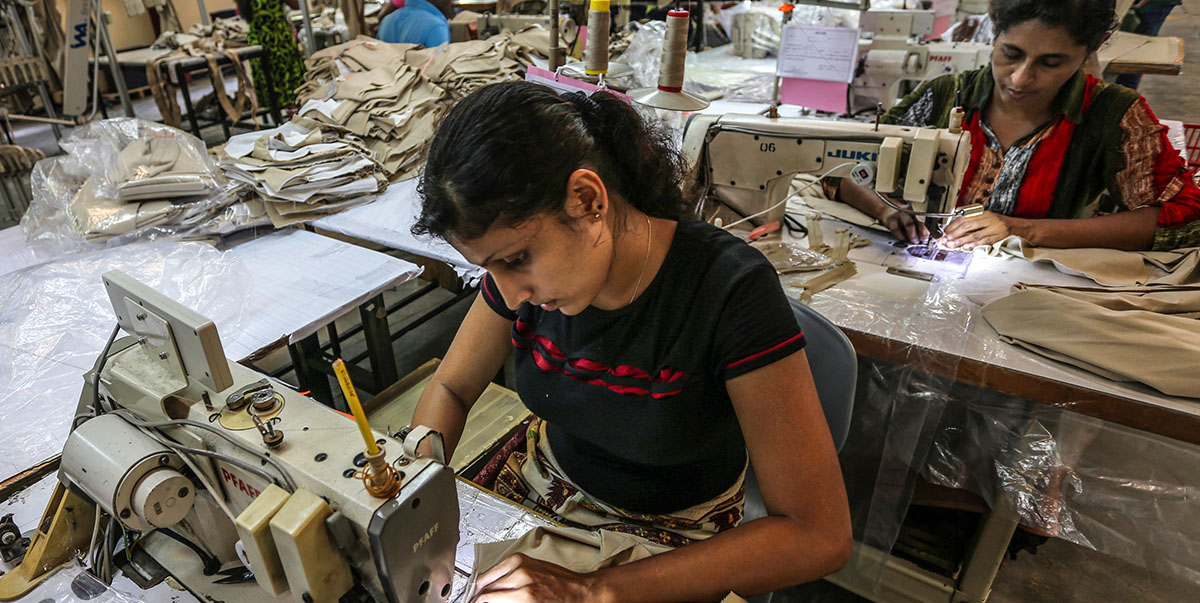 Published:
07 March 2022
Introduce interventions that address childcare issues and employment segregation.
Introduction
The coronavirus disease (COVID-19) pandemic has exposed the employment vulnerability of women in Sri Lanka. This vulnerability is due to the existing gender gaps in the labor market, women's high employment share in high-risk economic sectors, inability to telecommute, and the large amount of unpaid care work. Society's reliance on women, both in the frontlines and at home, reveals structural inequalities.
The erosion of female empowerment and gender quality due to the pandemic is challenging and weakening not only the progress made toward the Sustainable Development Goals (SDGs) but also the development agenda in Sri Lanka.
Policy makers must implement measures that reduce employment segregation of women and the burden of unpaid care work.
Analysis
COVID-19 has impacted women's health and economic participation and work opportunities. Globally, women's jobs are more vulnerable to this crisis than men's. Labor market data (Table 1) of Sri Lanka reflects this trend and indicates that employment loss has mostly affected women.
Table 1: Labor Market Indicators in Sri Lanka for Q2 of 2019, 2020, and 2021
Indicator

2019 Q2

2020 Q2

2021 Q2

Employed Population

 

Male

5,384,357

5,369,119

5,504,060

Female

2,818,661

2,607,881

2,578,243

Economically Inactive Population

 

Male

2,023,953

2,203,747

2,320,910

Female

5,751,556

6,153,940

6,256,447

Labor Force Participation Rate (%)

 

Male

73.4

71.7

71.1

Female

34.6

31.6

30.9

Unemployment Rate (%)

 

Male

3.4

4.1

3.8

Female

7.5

8.2

7.7
One of the factors influencing women's pandemic vulnerability in Sri Lanka is the existing gender gaps in the labor market. Women's labor market involvement is less than that of men. In 2019, women's labor force participation rate (age 15 and above) was only 34.5% while men's participation rate was 73%. There was also a notable difference in the unemployment rates between the two sexes (3.3 % and 7.4 % for men and women respectively). In addition, both female monthly and daily earners get less than their male counterparts.
Another factor is women's high employment share in both low-risk and high-risk economic sectors (Figure 1) as shown by the pre-pandemic data based on an assessment by the International Labour Organization.
Figure 1: Sectoral Perspective of Women Workers at Risk in Sri Lanka in 2019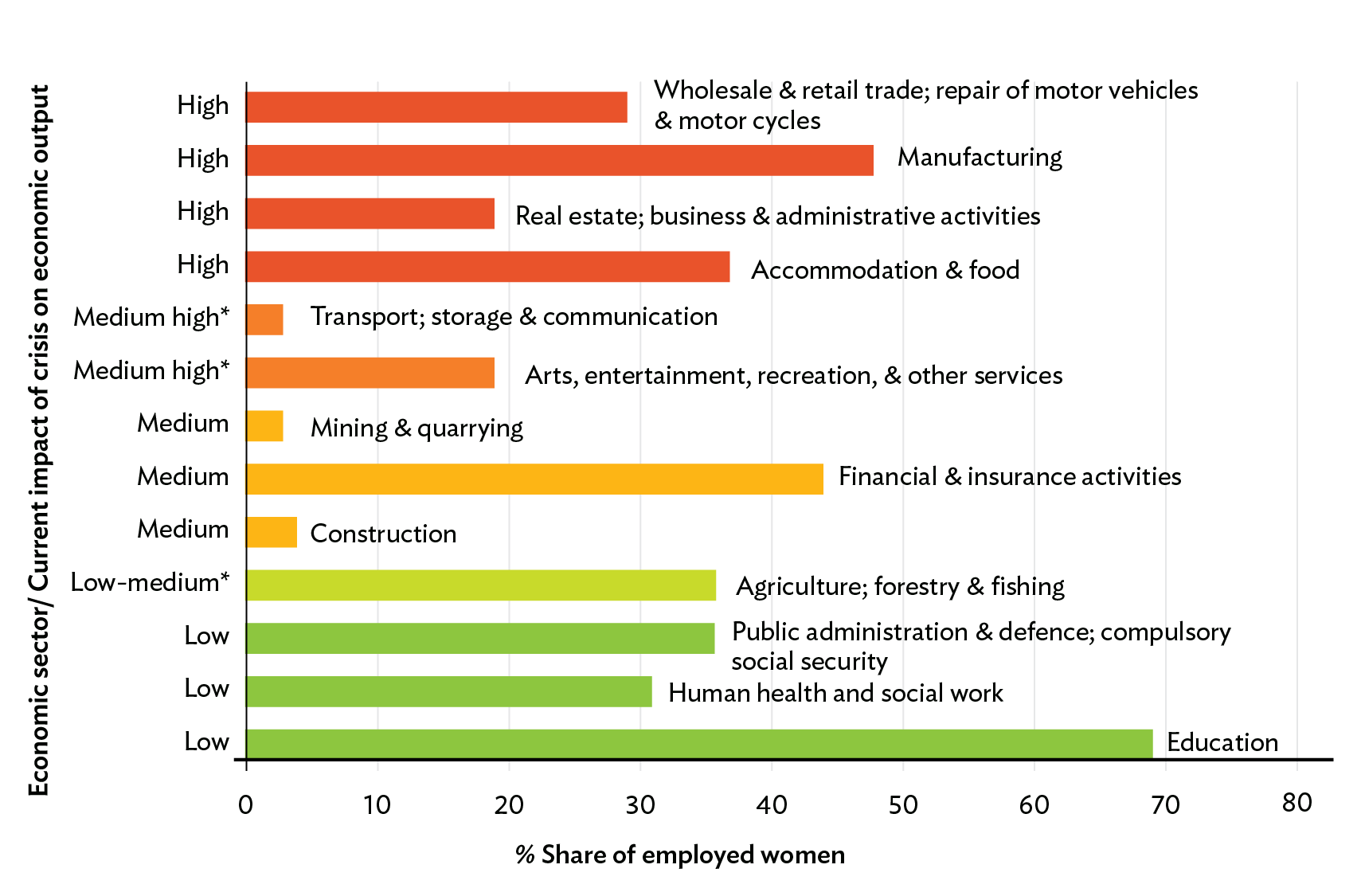 Manufacturing (including the textile subsector), accommodation and food services, and wholesale and retail are high-risk sectors due to mandatory closures, restrictions, and supply disruptions brought by the pandemic. These sectors have relatively high shares of female employment. This is also the case in some medium-to-high risk sectors (arts, entertainment, recreation, and other services) and medium-risk sectors (financial and insurance activities). Even though health is a low-risk sector, women employed in this sector face a higher risk of contagion. 
Ability to telecommute is another factor. Elementary occupation, farming, forestry and fishery, crafts, and other service works do not allow telecommuting or work from home arrangements mainly due to the nature of the work.
Lastly, women's participation in unpaid care work is more than that of men. Unpaid care and domestic work are traditionally considered as "women's work." This directly affects female's ability to participate in the paid economy, leading to gender gaps in employment outcomes, wages, and pensions. Women spends 3 hours and 12 minutes more than men on unpaid domestic work.
The difference in time allocation also implies the negative correlation between unpaid care work and labor market engagement. During the height of the pandemic, women were more burdened with unpaid care work due to preventive measures, such as school and day care closures and service disruptions. This additional pressure would constrain women's participation or even force them to completely withdraw from their labor market activities.
Moreover, factors such as pre-existing gender-sensitive laws and family-friendly policies, women's temporary employment, and limited public childcare support also contributed to women's employment vulnerability during the pandemic.   
Implications
Overrepresentation of women in certain sectors is linked with the stereotypical gender roles that they play in society like performing domestic responsibilities. In this context, it is important to introduce policies that reduce the employment segregation of women by targeting both the supply- and demand-side factors. 
Care work imposes a massive burden on working women from the onset of the crisis. Childcare is the most prominent factor that affects their economic participation. Introducing interventions that address childcare issues would benefit the economy in the long run.
This kind of interventions need to focus on three interconnected dimensions: 1) recognizing and valuing unpaid care work by integrating it into the system of national accounts, 2) reducing the burden of unpaid work on women by expanding access to key infrastructure for care and investing in labor-saving technologies, and 3) redistributing childcare responsibilities within households and between households and state and other institutions.
Guidelines must be set to make sure that family-friendly policies, such as work from home arrangements are implemented equally, considering this might backfire on women.
Sri Lanka needs to invest more in information and communications technology and in closing the gender digital divide. These investments are timeless and can still be useful post-pandemic. The benefit of emerging employment trends and working arrangements, such as work from home and independent work platforms, present a lot of opportunities for women.
Resources
A. Madgavkar et al. 2020. COVID-19 and Gender Equality: Countering the Regressive Effects. McKinsey Global Institute. July 15.
Department of Census and Statistics of Sri Lanka. 2020. Sri Lanka Labor Force Survey Annual Report 2019.
Department of Census and Statistics of Sri Lanka. (2020). Sri Lanka Time Use Survey - Final Report 2017.
D. Elson. 2017. Recognize, Reduce, and Redistribute Unpaid Care Work: How to Close the Gender Gap. New Labor Forum. 26(2). pp. 52-61.
International Labour Organization. 2020. ILO Monitor: COVID-19 and the World of Work. Second edition Updated Estimates and Analysis.
P. Profeta. 2020. Gender Equality and Public Policy during COVID-19. CESifo Economic Studies. 66(4). pp. 365-375.
Leave your question or comment in the section below:
---
YOU MIGHT ALSO LIKE
---
---
Disclaimer
The views expressed on this website are those of the authors and do not necessarily reflect the views and policies of the Asian Development Bank (ADB) or its Board of Governors or the governments they represent. ADB does not guarantee the accuracy of the data included in this publication and accepts no responsibility for any consequence of their use. By making any designation of or reference to a particular territory or geographic area, or by using the term "country" in this document, ADB does not intend to make any judgments as to the legal or other status of any territory or area.
---
Was this article useful?
---