EXPLAINER
How a Pay-as-You-Go Solar Project Reaches the Poorest Households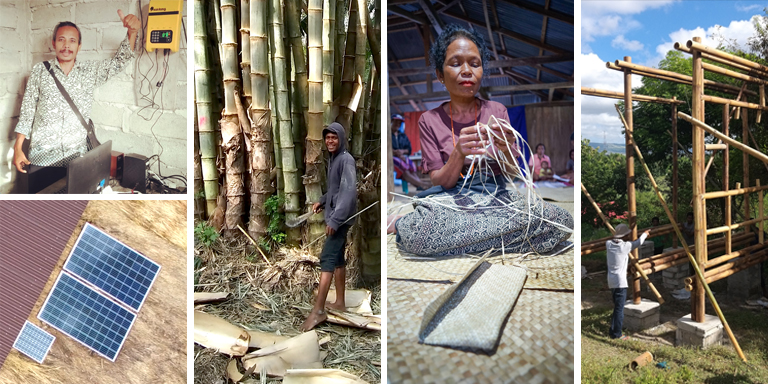 Published:
01 February 2021
On Indonesia's remote Sumba Island, poorer households can pay for solar home systems with goods or services instead of cash.
Introduction
Nearly 40% of households (500,000) in Nusa Tenggara Timur province have no electricity despite Indonesia achieving a national electrification rate of 98%. These include 60,000 households on the remote island of Sumba, which count among the country's poorest and rely on polluting kerosene and firewood for lighting and cooking.
Off-grid systems have become part of the solution in providing last-mile electricity on the island. However, many households are strapped for cash and cannot afford the service.
A local start-up enterprise is experimenting on a lease-to-own arrangement that allows poorer households to pay for solar home systems with goods or services instead of cash. Sumba Sustainable Solutions (3S), registered in Indonesia as PT Sumba Solusi Alam, has developed a setup that turns the noncash payments into cash and minimizes default risk. It has already equipped 2,500 households living on less than a dollar a day (per person) with solar lights and phone charges. It is targeting to sell to 30,000 households in 5 years.
What is 3S?
3S is a for-profit business that envisions rural villages with access to energy and appliances that enable the development of sustainable businesses to provide decent jobs and contribute to a circular economy.
Village Infrastructure Angels, which was founded in the United Kingdom, seeded 3S as part of the Sumba Iconic Island initiative with initial investment in solar home systems and solar-powered agro-processing mills from United States Agency for International Development's (USAID) Powering Agriculture initiative and French aid agency Agence Française de Développement.
3S conducts pilot research and development (R&D) projects in partnership with a local research and advocacy nongovernment organization (NGO), the KOPPESDA Foundation. These include trials of solar home systems made from upcycled electronic waste by Australian startup PowerWells and supported by United States-based nonprofit Honnold Foundation.
3S was also supported by a technical assistance project from the Asian Development Bank to participate in the United States-based New Energy Nexus Accelerator, which has committed to invest in 3S's 2021–2022 development plan.
A new pilot on expanded productive use centers is supported by winning the D-Prize, a social venture competition in the United States.
Why is 3S selling solar home systems to the poorest households? How does this business work?
Life in remote villages can be tough when you earn less than $1/day and have no access to electricity and markets. Our mission is to enable sustainable business development in villages in the last mile.
The key to our business model is to both provide access to energy and increase the ability to pay in the same intervention. We enable rural families to purchase micro solar home systems (starting with three lights, phone charger, battery, and solar panel) on a 3-year contract with monthly payment at $3.50. Purchase and payments are made through a local agent, which collects a fee equivalent to 10% of the sale. See Figure 1.
Excess energy is used to power shared milling facilities for rice, corn, and flour, which help not only to improve production efficiency and income but also reduce time poverty, particularly for women. These facilities, called productive use centers, are made from local materials by the community, and are managed by local agents, who acquire the machines through a lease–purchase arrangement. Community members use these facilities on a user-pays basis.
Figure 1: Basic Cash Lease–Purchase Model
Figure 2: Alternative Payments Lease–Purchase Model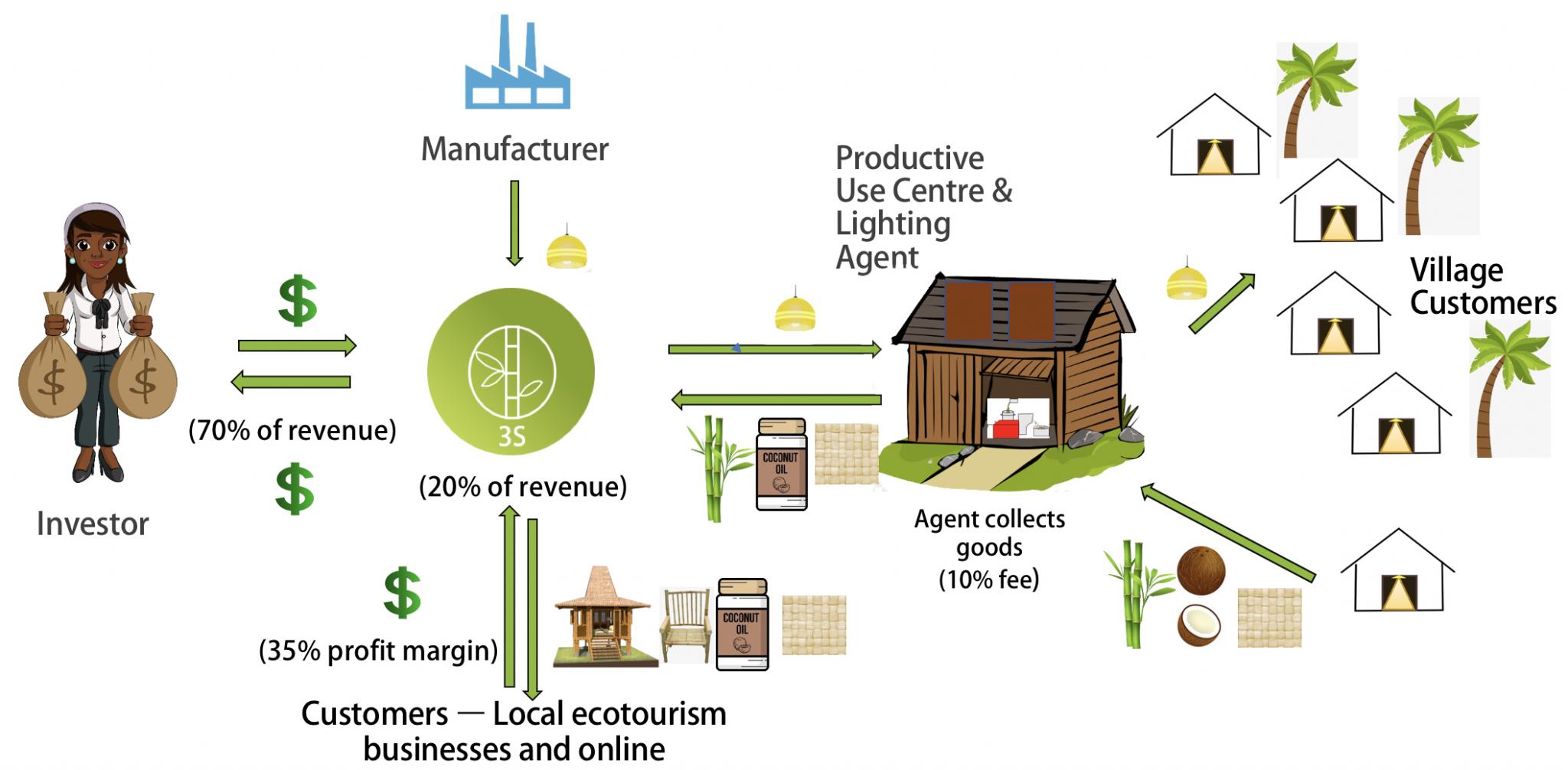 Tell us about your noncash payment system.
Noncash payments (Figure 2) are an essential feature of our business model and just a starting point to enable last-mile farmers to improve their livelihood. Eventually, the community will become more profitable and able to pay cash.
At first, we allowed chickens and goats as noncash payments. After they broke free and disappeared into the forest, we revised that system to things that do not have legs! Next, we trialed handwoven bags from palm leaves, which were made by women and were sold to tourists and therefore did not compete with other uses for cash in the village.
The experiment showed that people struggled to pay in cash to get access to electricity and found the noncash payments a practical option.
For example, Obed Hurulanja, a 3S agent in Uyi Manu Village, receives only noncash payments. She says people in her village often do not have cash. They get cash only from the sale of pigs or cashew nuts but not during the wet season when the village is cut off from road access to markets. She also prefers not to be paid in cash because she might be tempted to spend it all.
Many have paid for their solar home systems with bamboo, which grows abundantly on the island. With so much bamboo, 3S has started a business that uses it for the construction of furniture and cottages for the sustainable tourism market. This business is growing quickly and returning a profit. The end customers for the bamboo buildings are tourism investors so we can ethically make margins that enable investment. Our 5-year plan is to develop sustainable, ethically produced bamboo construction products for the export industry.
We are currently focused on bamboo and virgin coconut oil, which the company hopes to turn into a business based on the bamboo business model. We are swapping 50 poles of bamboo for a solar home system in a single transaction or receive monthly repayments of coconut oil. Our vision is that as production increases, part of the coconut oil received is paid for in cash and part of it constitutes the noncash payment. If the farmer supplies 5 liters of virgin coconut oil, 1 liter of that is non-cash payment and 4 liters are purchased in cash.
3S is also developing a second business model for off-grid electrification. In 2021–2022, we will focus on village governments, community health centers, and schools as our customers to generate cash sales.
What challenges have you faced?
The business model for lease–purchase lighting has two major challenges on Sumba.
First, most of our agents and customers do not have access to the internet. Mobile money or Pay as You Go (PAYG) apps are not yet in use. Our system is manual with village agents receiving printed repayment codes for only the customers that have made a payment in the previous month. Agents collecting large amounts of money relative to their monthly income can lead to some agents "borrowing" the cash without the ability to repay it.
We now have a strict process for choosing a new agent based on the success of other agents meeting these criteria:
respected person in the village holding a position as a teacher's or community health assistant or equivalent,
graduated from high school, and
has a small shop or kiosk that has been active for more than 1 year.
The village head is asked to create a list of people who fit these criteria, and we look at both the location of their house in respect to customers and their enthusiasm to take on the responsibility.
Second, new customers in the past were just asked for their name and to sign a collective contract with the agent. We have now changed this system to require a photocopy of the customer's identity card (KTP) and to sign a single-page contract in plain Indonesian language to maximize understanding of the system and expectations. This is based on the system used in villages for credit purchase of a motorcycle.
Initially we started with an NGO–donor mindset of only trying to do what is best for people. Over time, we realized we need an equal focus on what is good for the business to enable us to expand our impact.
How has the coronavirus disease (COVID-19) pandemic affected your operations?
Handwoven bags were predominantly sold to the local tourism market and through the internet. Online sales from remote areas are currently difficult with the high costs of postage due to the pandemic.
Initially, the bamboo business slumped with the COVID-19 uncertainty, but we have benefited from people having more time to think about their lifestyles and long-term goals. Many are investing in small-scale sustainable tourism enterprises.
What have you achieved so far?
Impact is at the heart of our business model. Our partnerships to date have created the following impact:
2,500 households with light and mobile phone charging capabilities (Sustainable Development Goal No. 7),
100,000 hours of women's labor saved through our solar-powered rice and corn mills (SDG 5),
9,000 poles of bamboo purchased from rural farmers, supporting families living on less than $1/day (SDG 1),
240 tonnes of carbon dioxide emissions reduced (SDG 13),
52 agents established in rural villages, and
28 local employees.
Villagers like Rambu Ina now see livelihood opportunities created by the solar home systems. Initially, she was worried that she could not take out the lease so she continued to use kerosene. When she saw that she could pay for it with her weaving, she made enough products to pay for 5 months of lighting upfront. She wants her kampung (village) in Mehang Mata to get a coconut grater. She gets paid 4,000 rupiah ($0.28) per kilogram of copra but can get a lot more if there were a solar-powered grater and coconut oil press to make oil.
Figure 3: Achievements to Date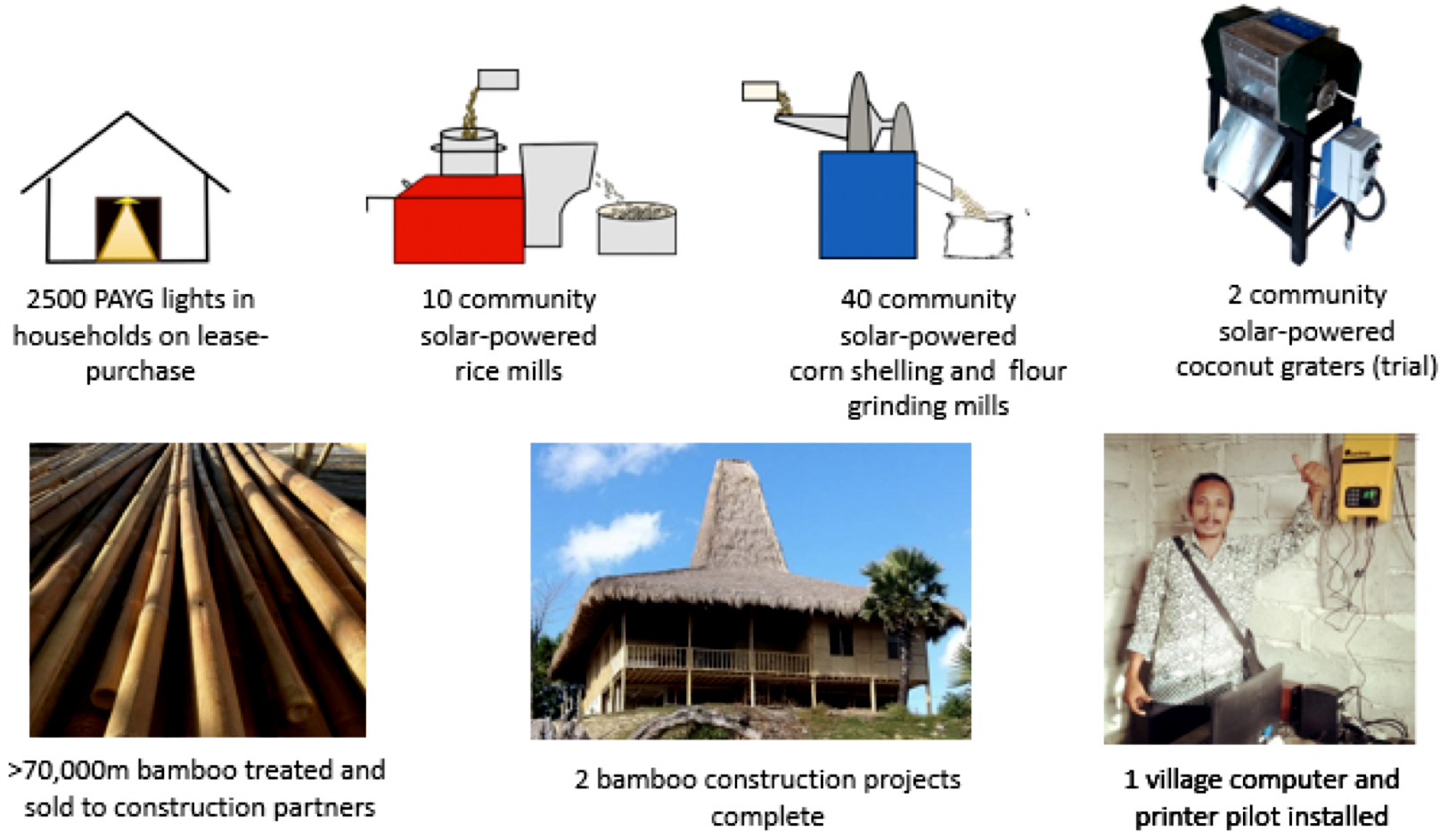 How do you plan to expand your operations?
In the next 2 years, we will focus our core business activities on cash sales to community health centers, schools, and village governments. Non-cash payments will be focused on bartering lights for raw bamboo poles and alang grass (used for roofing) in a single transaction.
Our R&D during this period will focus on new productive use center pilots that combine rice and corn milling with water pumps to reduce domestic workloads and coconut grater and oil press, water pumps, and tools for adding value to bamboo. These productive use centers will be paired with solar home systems in every household for lighting and mobile device charging on a 3-year lease–purchase agreement.
We aim to work with 30,000 households in 5 years with the R&D from the pilot projects unlocking potential for commercial investment when paired with our bamboo business. Our scale-up strategy is to increase both the number of households we reach and the depth of the economic impact through long-term partnerships.
Resources
Asian Development Bank. Regional: Promoting Sustainable Energy for All in Asia and the Pacific - Renewable Energy Mini-grids and Distributed Power Generation (Subproject A).
Sumba Sustainable Solutions. Website.
YouTube. 2020. Berdasar Karena Cinta, Hingga Mampu Menerangi Sumba. Obrol Obsesi. Episode 7.  23 November.
Village Infrastructure Angels. Website.
Leave your question or comment in the section below:
---
YOU MIGHT ALSO LIKE
---
---
Disclaimer
The views expressed on this website are those of the authors and do not necessarily reflect the views and policies of the Asian Development Bank (ADB) or its Board of Governors or the governments they represent. ADB does not guarantee the accuracy of the data included in this publication and accepts no responsibility for any consequence of their use. By making any designation of or reference to a particular territory or geographic area, or by using the term "country" in this document, ADB does not intend to make any judgments as to the legal or other status of any territory or area.
---
Was this article useful?
---