CASE STUDY
A Clean Solution for Moving People and Goods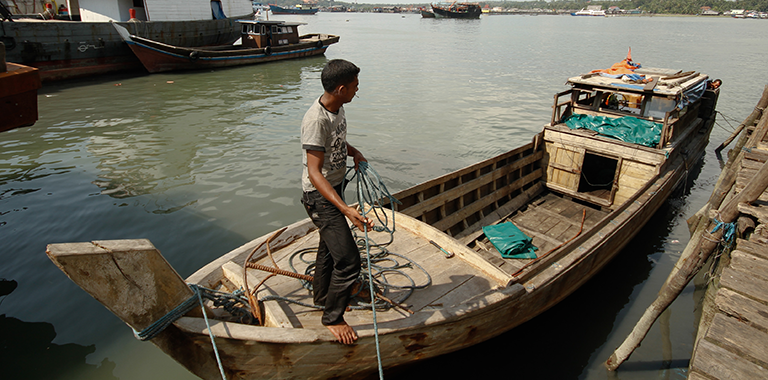 Published:
19 July 2017
Transporting passengers and cargo over navigable rivers and canals reduces road and rail congestion, road crashes, pollution, emissions, and energy consumption.
Overview
Inland waterway transport can be an efficient, cost-effective, and environment-friendly option to move people and bulk commodities over long distances. Transporting people and goods over navigable rivers and canals reduces road and rail congestion, road crashes, pollution, emissions, and energy consumption.
The People's Republic of China (PRC) has the world's largest inland waterway network, both in terms of length and freight volume. However, investments for the maintenance and modernization of the infrastructure have been overtaken by investments for highways and rail. Many ports are outdated, with no specialized berths and modern handling equipment. This has kept inland waterway transport in the country from reaching its full potential. However, in recent years, the PRC has given inland waterways renewed priority investment, recognizing it as an essential part of its transport system.
The province of Hunan, which has one of the biggest inland waterway networks in the country, has been deeply involved in efforts to improve inland waterway infrastructure in the PRC. It is a landlocked province with around 68.4 million residents. The Xiang River, one of the largest tributaries of the Yangtze River, flows through six cities in the province. It is 969 kilometers long with 773 km passing through Hunan, making it the province's biggest river. Xiang forms part of an intricate inland waterway network in the PRC, which has over 11,495 km of waterways, 107 ports, and 1,880 berths.
The Asian Development Bank (ADB) is helping improve the inland waterway transport system in Hunan. The project will make the Xiang River more navigable for larger vessels, improve cargo terminals along the river, and provide landing berths for rural communities. It will also tap the river's hydropower potential to provide clean energy to the province. This initiative will improve access to markets, reduce road and freight transport congestion, and cut down greenhouse gas emissions and pollution.
Project information
Project snapshot
December 2012: Approval Date
2017: Completion Date
$393.32 million:Total project cost estimate
$150 million:ADB Loan
$65.40 million:China Construction Bank Loan
Executing agency

Hunan Provincial Department of Transport
Financing
Challenges
Hunan's inland waterway infrastructure needed vast improvement. Only 6% of its waterways and berths can accommodate vessels with a carrying capacity of 1,000 tons. The limited depth of the Xiang River and its long rocky shoals have prevented safe year-round access by larger vessels. Traffic growth is also constrained by obsolete and insufficient infrastructure and loading facilities in the river's ports. In 2009, the network carried only 10% of the overall freight transported in the province in terms of ton-kilometers.
To address these constraints, the PRC prepared the Xiang River Network Master Plan, which emphasizes infrastructure development. Hunan has already executed several improvements in line with the master plan to gradually make the Xiang River navigable year-round for barges of up to 1,000 deadweight tons in its middle and upper reaches and for barges of up to 2,000 deadweight tons in its lower reaches. Once the plan is fully implemented, the Xiang River will become one of the most important freight corridors in Hunan.
Solutions
In 2011, the PRC sought ADB's assistance in achieving its vision for the inland waterway network in Hunan. Together, they initiated a project that aimed to construct the Tugutang Navigation Complex with a ship lock capacity that can accommodate Class III vessels, which can carry 1,000 deadweight tons; a run-of-the-river barrage to regulate river levels and flows; and an associated hydropower plant with a capacity of 90 megawatts. It will also construct cargo terminal berths and improve public landing stages, which will provide rural communities with improved access to river transport to different parts of the province and maximize the potential of industrial sites in the area.
The project is an important element of the Xiang River Network Master Plan. Without the Tugutang Navigation Complex, prior investments given to enhance inland waterway transport facilities upstream of the river will be less beneficial.
Results
When the complex is completed in 2017, Hunan will have the modern Tugutang navigation-cum-hydropower complex. This modern infrastructure will improve transport efficiency along the river as the navigation complex will be able to receive class III vessels, with a ship lock operation lasting no more than 50 minutes. This complex will be supported by 72 enhanced landing stations and two cargo terminals with wider berths, ready to receive more and larger vessels.
The navigation complex features a run-of-the-river barrage that regulates river levels and flows and a 90-megawatt hydropower plant. This additional energy can help the province meet its energy demand through its yearly power output of 363 gigawatt-hours of clean energy by 2017. This increased power supply through renewable energy will meet the electricity needs of about 300,000 households.
By producing clean energy, the project can help reduce greenhouse gas emissions. The project will help avoid approximately 290,000 tons of carbon dioxide by generating electricity through hydropower rather than fossil fuels. It will further cut down emissions and pollution by reducing highway traffic congestion when cargo road transport shifts to inland waterway transport.
The project will further provide benefits to the people, especially the marginalized, as the extended cargo services can generate more jobs while improving access to markets for the province, which has about 637,000 poor rural residents and 273,000 poor urban dwellers. According to local officials, the project will create 50,000 jobs during its implementation. Women will also benefit from this, as at least 20% of employment generated during construction and operation will be allotted to them.
Lessons
Using inland waterways as a transport option
When it comes to transport, roads and highways would often be the default responses to the need for connectivity. However, inland waterways, as proven by this project, can be an efficient, cost-effective green transport alternative, especially for cargo services. Through a well-developed network, people and businesses will have a more reliable option to transport their goods.
When using inland waterways, opportunities for interconnection can also be maximized, as shown in this project. Although the PRC already has an extensive network, it recognized the need to modernize and extend its system. This project is part of a bigger network that starts at the Yangtze River, from which the Xiang River flows. To make its inland waterways more efficient, the country also developed the infrastructure of Xiang River and further extended it to remote villages.
It is also important for inland waterways to connect to road and rail transport. Inland waterway transport can be an integral link in countries' logistics chain. An inland waterway network, when combined with a well-connected and efficient multi-modal transport network, will boost economic growth since it will enable comprehensive connectivity. Interconnection, however, requires detailed planning and interface arrangement. The project is currently studying port development options to ensure that access roads are wide enough, and will not run through densely populated areas to ensure safety and efficiency.
Optimal inland waterway transport design
Rivers and canals do not usually have uniform levels of depth and topography. In the case of the Xiang River, parts of it were too shallow and its shoals were rocky. This situation poses a big challenge to inland waterway transport since it limits the size and number of vessels that can be accommodated. This project overcame this hurdle. Instead of dredging the river to make it deeper, it raised the water level by building a barrage, with an added power plant component that will harness hydro energy. The barrage and reservoir ensure that river depth will be sufficient for vessel navigation even during dry season; and during the rainy season, they also act as a flood control mechanism since the barrage controls water level.
Institutional development
One neglected aspect in infrastructure development is the need for parallel activities for institutional development. The capacities of the multiple institutions must be expanded and upgraded so that they can easily handle the changes in infrastructure and the consequent results of these changes, such as increased traffic volume and increased demand for resources. Key activities in institutional reforms may include the establishment of a unit or interagency committee to oversee implementation, the creation of a conducive policy environment , the upgrading of specific staff capacities and skills, and the creation of incentives to foster inland waterway transport.
Institutional development was made an integral part of this project. First, a committee was established in 2012 to promote this mode of transport. An inland waterway transport development policy was also prepared, to be reviewed by the provincial government. In addition, the staff are currently being trained in vessel inspection and emergency response.
Importance of project preparatory studies and policy dialogue
Pressure from local or national government can sometimes induce hasty construction, without the benefit of a sound basis that extensive design, preparatory studies, and policy dialogue can give. Particularly when ADB is entering a new field or subsector, initial sector studies play a key role in ensuring that ADB arrives at a sound basis for its eventual investment support.
The project used a two-stage project preparatory technical assistance where the first phase covered sector assessment and identification of sector policy and institutional issues, and second phase covered project preparation. Phase 1 included workshops that facilitated consultation and policy dialogue between the government and ADB. Results from these activities highly influenced project design and implementation. The government initially wanted only a barrage to control water levels. Drawing on the findings of the project preparatory technical assistance and policy dialogue, port and rural access were added, extending the project's benefits to more rural households.
Resources
Asian Development Bank. People's Republic of China: Hunan Xiangjiang Inland Waterway Transport Project.
ADB. 2017. Lessons from ADB Transport Projects: Moving Goods, Connecting People, and Disseminating Knowledge. Manila.
ADB. 2016. Promoting Inland Waterway Transport in the People's Republic of China. Manila.
ADB. 2013. Asia's Rivers and Canals: Inland Waterway Transport. Feature article. 22 August.
ADB. 2012. Project Administration Manual: Hunan Xiangjiang Inland Waterway Transport Project. Manila.
ADB. 2012. Report and Recommendations of the President to the Board of Directors: Proposed Loan to the People's Republic of China for the Hunan Xianjiang Inland Water Transport. Manila.
ADB. 2011. Environmental Impact Assessment: People's Republic of China - Hunan Xiangjiang Inland Water Transport. Manila.
Leave your question or comment in the section below:
---
YOU MIGHT ALSO LIKE
---
---
Disclaimer
The views expressed on this website are those of the authors and do not necessarily reflect the views and policies of the Asian Development Bank (ADB) or its Board of Governors or the governments they represent. ADB does not guarantee the accuracy of the data included in this publication and accepts no responsibility for any consequence of their use. By making any designation of or reference to a particular territory or geographic area, or by using the term "country" in this document, ADB does not intend to make any judgments as to the legal or other status of any territory or area.
---
Was this article useful?
---