CASE STUDY
Energy Efficiency: Making It Work Nationwide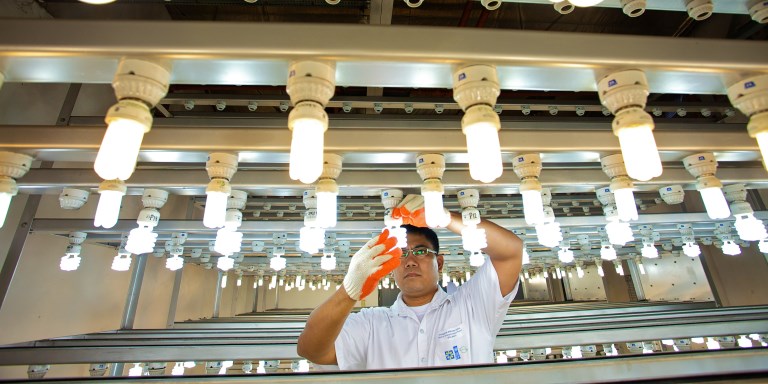 The formula: installing energy efficient lighting systems in government offices and parks, distributing fluorescent lamps nationwide, and establishing a green labeling system for buildings.
Overview
In the Philippines, higher power demand is stretching generation capacity. The Philippines has one of the most expensive power rates in the world ($0.26 per kilowatt-hour in 2013). The steep cost of power results from reliance on imported fuel for power generation, scattered geography, inefficient transmission and distribution systems in some areas, a regulatory framework that contains a complex margin of protection mechanisms for supply and transmission companies, and debt and cost recovery issues for legacy infrastructure. Given the impending shortage of energy supply, the cost of electricity will likely increase.
With assistance from the Asian Development Bank, the government implemented the Philippine Energy Efficiency Project as an interim measure to mitigate a projected energy supply deficiency and reduce power consumption in residential and public sectors.
The project retrofitted 135 government office buildings and almost 4,000 public park and streetlights with energy-efficient lighting systems, distributed 8.6 million compact fluorescent lamps nationwide, and established a green labeling system for buildings.
These actions yielded a cumulative energy savings totaling 321 gigawatt-hours per year and facilitated development of the Green Building Rating System, which has certified 32 government buildings for sustainability.
Project information
Project snapshot
January 2009: Loan Approval Date
December 2013: Project Completion Date
US$ 31.1 million: Loan amount
Executing agency
Others
Republic of the Philippines: Borrower
Continue reading
Philippines
,
Energy
Last updated: April 2017
---
Disclaimer
The views expressed in these articles are those of the authors and do not necessarily reflect the views of the Asian Development Bank, its management, its Board of Directors, or its members.
---
Was this article useful?
---