CASE STUDY
A Virtual Power Plant that Creates Real Energy
Solutions
Choosing Guangdong
Guangdong was chosen as the best site because the project would help expand power generation capacity in the country's largest provincial economy and secure energy supply without further harming the environment. It was envisaged that the success of this project would potentially spur more cities in the country to explore using efficiency power plants.
Implementing energy efficiency subprojects
To create the efficiency power plant, Guangdong implemented eight energy efficiency subprojects for Tranche 1 of the program, which retrofitted, upgraded, and replaced appliances and equipment owned by end users, industries, and commercial establishments. It also implemented subprojects on waste-to-energy measures.
The municipal government established the Efficiency Power Plant Project Management Office to handle overall implementation of the energy efficiency subprojects.
For Tranche 1, eight agencies ran subprojects as subborrowers. Upon completion, the subprojects created an efficiency power plant capacity of 130 megawatts, saving 651 gigawatt hours per year.
Strategic lending mechanism
Many companies do not seek loans for energy efficiency projects because it takes funding away from their core business operations. They would rather seek funding for business expansion or the establishment of a new business. To address this, the program used a financial intermediary loan scheme with strengthened implementation supervision and a simplified process for subproject appraisal. This scheme not only made funding for retrofits available to companies, but also gave Guangdong needed flexibility to quickly complete energy efficiency projects. It functioned as a revolving fund; new subprojects could be financed as subloans for each repaid subproject, multiplying energy savings.
Using Asian Development Bank loan proceeds, the project established a special single-purpose trust fund managed by a financial intermediary, the Guangdong Finance Trust Company. Together with the Efficiency Power Plant Project Management Office, they appraised subproject applications and the Guangdong Finance Trust Company on-lent to financially viable efficiency power plant subprojects. Repayments of subloans, net of transfers to the Guangdong provincial government for servicing the loan, were used for further on-lending. The trust was available only for efficiency power plant projects and could not be mixed with other trust funds.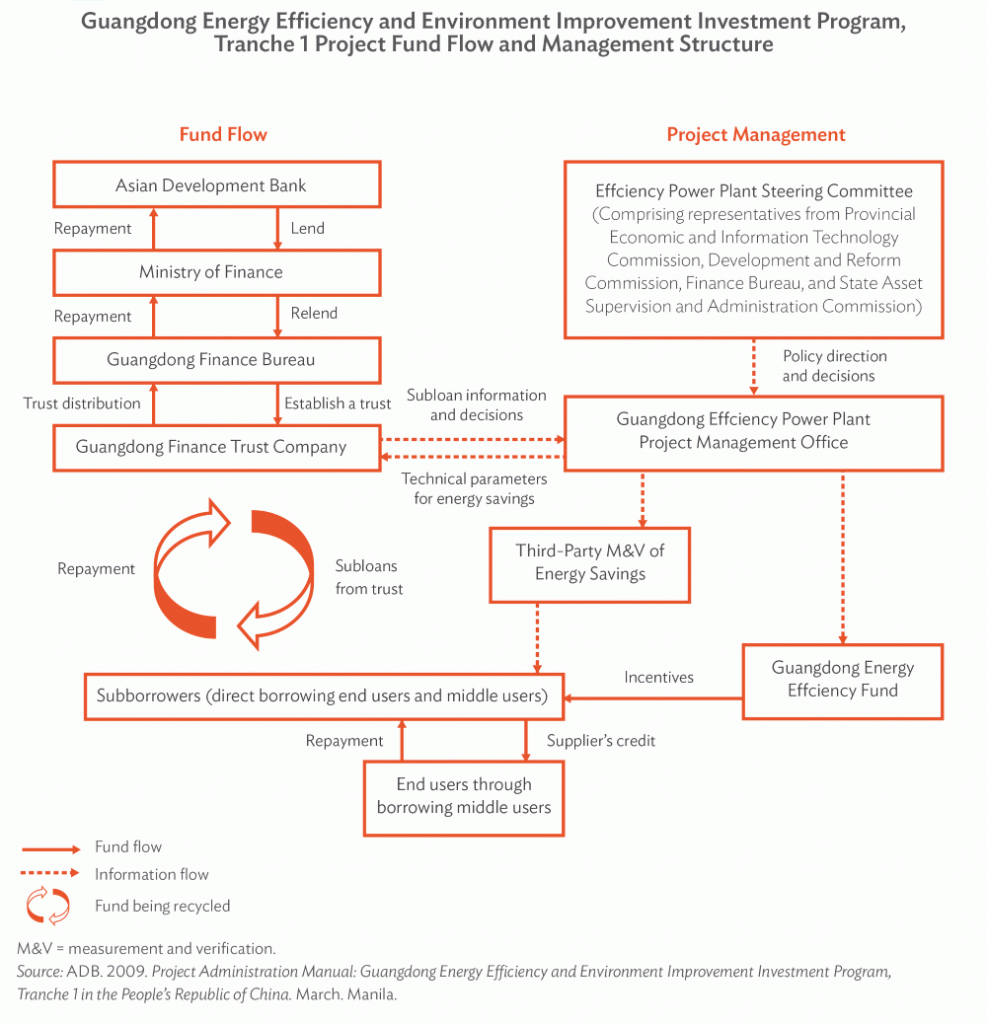 Numbers and facts
107 megawatts

power generated
175,813 tons/year

coal use projected reduction
415,560 tons/year

carbon dioxide emissions projected reduction
1,785 tons/year

suspended particulates emissions projected reduction
---
Disclaimer
The views expressed in these articles are those of the authors and do not necessarily reflect the views of the Asian Development Bank, its management, its Board of Directors, or its members.
---
Was this article useful?
---