CASE STUDY
Making Resettlement Work through Partnerships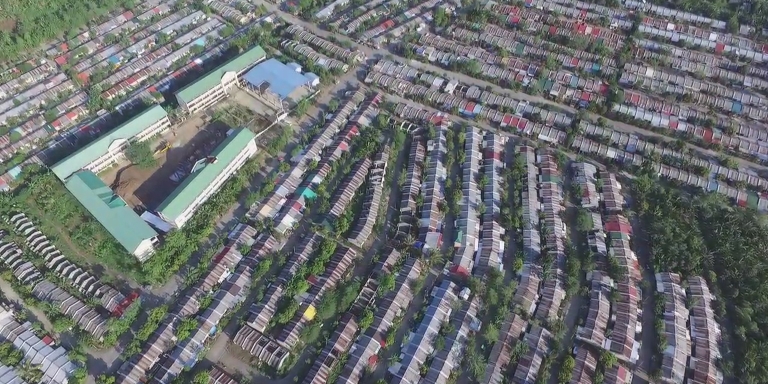 The Southville 7 community in the Philippines shows how different sectors of society worked successfully together to turn a basic housing project into a livable community for 5,000 resettled families.
Overview
Southville 7 is regarded as a model resettlement site in the Philippines. Its success is mainly because of multisector and multistakeholder efforts led by the National Housing Authority (NHA) and ABS-CBN Lingkod Kapamilya Foundation, Inc. (ALKFI).
Building the resettlement community in partnership with multiple agencies with a range of mandates and operating styles was not easy. The partners of Southville 7 overcame challenges through close collaboration and by focusing on a common vision for the community.
This case study shares the impact and lessons from the experiences in Southville 7, along with a framework that outlines the steps other organizations can take to make resettlement work. It is based on a detailed report, Southville 7: Making Resettlement Work, by the Asian Development Bank (ADB), which provided a $1.5 million grant in 2012 to support multisector partnerships.
Project information
Project snapshot
2000: NHA completes Southville 7 Housing Project.
2006: Southville 7 becomes a resettlement site.
2009: NHA and ALKFI formally agree to share management of Southville 7.
2009-2011: About 3,000 families in Metro Manila, who were displaced by Typhoon Ondoy (Ketsana), arrive.
2010: Habitat for Humanity begins building houses.
2011: Local government of Calauan issues a moratorium on relocation to Southville 7, citing a lack of resources.
2012: ADB's Japan Fund for Poverty Reduction provides a $1.5 million grant.
2013: First homeowners' associations register with Housing and Land Use Regulatory Board.
2013: Businesses start setting up shop, creating jobs for 300 residents.
2016: Partners formally reaffirm commitment and support for Southville 7 until 2020.
ADB's Japan Fund for Poverty Reduction (Grant): US$ 1,500,000
Government (In-kind): US$ 2,540,334
Government (Cash): US$ 250,000
Private sector contribution (In-kind): US$ 1,338,180
Community contribution (In-kind): US$ 380,230
Total: US$ 6,008,744
Executing agency
Implementing agency
Others
Homeowners' associations
Municipal Government of Calauan
Ayala Foundation, Consuelo Foundation, Habitat for Humanity Philippines, Life Project 4 Youth, Salesians of Don Bosco (NGO partners)
Continue reading
Philippines
,
Poverty
,
Social development and protection
Last updated: December 2016
---
Disclaimer
The views expressed in these articles are those of the authors and do not necessarily reflect the views of the Asian Development Bank, its management, its Board of Directors, or its members.
---
Was this article useful?
---