CASE STUDY
Closing the Skills Gap in the Wastewater Treatment Industry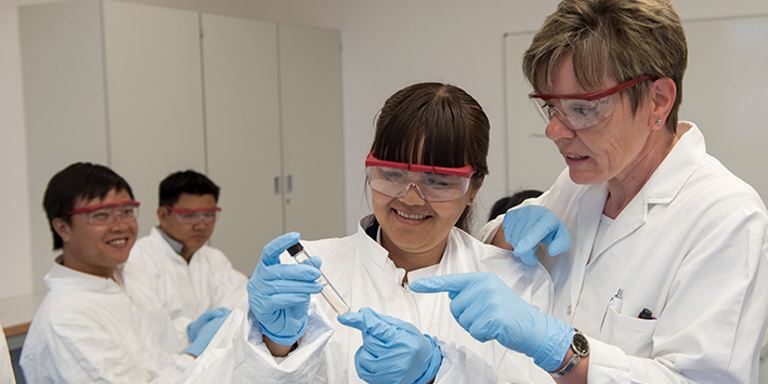 Business sector engagement is key to the success of a German-supported TVET training offer for skilled workers for the wastewater sector in Viet Nam.
Overview
As the economy of Viet Nam develops, by-products of industrialization, such as wastewater, increase. Treating wastewater becomes a new industry in itself—one for which very few in Viet Nam are well prepared. The government set a target of treating 60% of the country's total wastewater and connecting 80% of urban households to a sewerage system, by 2020.
At present, around 10% of Viet Nam's wastewater gets treated, and about 60% of urban households are connected to sewerage systems.
Estimates put the shortfall in skilled workers required to operate and maintain the new technical infrastructure in the wastewater sector at around 8,000 through to 2020.
To support the achievement of its targets the Government of Viet Nam partnered with the Government of Germany to pilot a technical and vocational education and training (TVET) program for individuals wanting to work in the wastewater sector.
In close cooperation with enterprises and the Vietnam Water Supply and Sewerage Association (VWSA), a TVET institute, supported by GIZ, Germany's international development agency, trained skilled workers for the wastewater sector, capable of operating and maintaining drainage networks, as well as municipal and industrial treatment plants.
This case study is based on a presentation made by Lisa-Marie Kreibich, technical advisor of German Development Agency, GIZ Viet Nam at the 2016 International Skills Forum held at the Asian Development Bank in Manila in September.
Project information
Project snapshot
2014: Start of project
Ongoing: Status of project
Up to EU€ 5 million (US$ 5.45 million): At current exchange rates
Commissioning agency

German Federal Ministry for Economic Cooperation and Development (BMZ)
Operating agency
General Directorate of Vocational Training / Ministry of Labour - Invalids and Social Affairs (MoLISA)
Executing agency
Deutsche Gesellschaft für Internationale Zusammenarbeit (GIZ) GmbH
Others
Ho Chi Minh Vocational College of Technology: Participating college
Ho Chi Minh Urban Drainage, Binh Duong Water Supply-Sewerage and Environment, Vung Tau Urban Sewerage and Development, Can Tho Water Supply and Sewerage, Khanh Hoa Water Supply and Sewerage Company, and Tin Nghia: Participating companies
Vietnam Water Supply and Sewerage Association (VWSA): Participating sector association
Continue reading
Viet Nam
,
Education
,
Water
Last updated: November 2016
---
Disclaimer
The views expressed in these articles are those of the authors and do not necessarily reflect the views of the Asian Development Bank, its management, its Board of Directors, or its members.
---
Was this article useful?
---