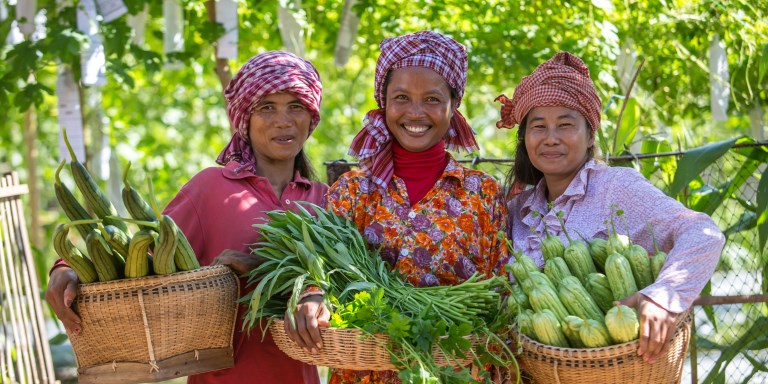 A suite of information and communication technology (ICT) solutions can help integrate farmers in Cambodia into agriculture value chains and boost their competitiveness.
Published:
19 September 2017
Overview
Much of Cambodia's poverty reduction accomplishments relied on the agriculture sector, which recorded exceptional growth in 2004-2012. But agricultural productivity and production in recent years showed signs of slowing. This trend is recorded even in Kampong Cham, a province known as the agriculture center of Cambodia.
Home to an increasing number of businesses, Kampong Cham represents the future of Cambodia's fast-growing economy and industrial and overall societal development. The province has abundant fertile land, farm labor, draft animals, and groundwater resources. It also benefits from a good road network and proximity to Viet Nam, which opens trade opportunities with the net rice exporter. But farmers are facing numerous challenges, including decreasing earnings, higher production cost, and problems in achieving product quality.
A recent study shows that an e-agriculture platform can help address the inefficiencies that lead to farmers' lack of competitiveness. It consists of four components: climate smart agriculture, agribusiness portal, farm credit, and risk management (crop insurance).
This is a summary of E-Agriculture Platform for Kampong Cham Province, a study funded by the Asian Development Bank (ADB) under a technical assistance project. The report, led by ADB's Sustainable Development Team and executed by Ernst and Young LLP (EY) India team, explores the feasibility and application of ICT tools for climate-friendly and inclusive agricultural value chains in Kampong Cham, Cambodia.
Key Findings
The line from farmer to end user in Kampong Cham is peppered with various intermediaries that make the process long.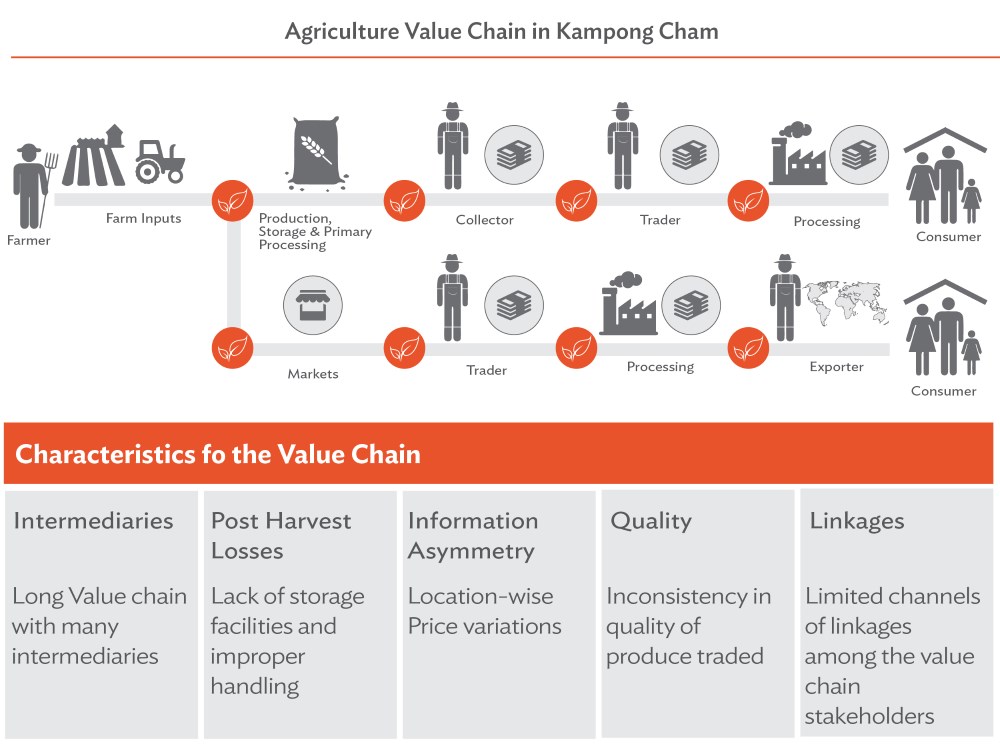 In every step of the agriculture value chain, there are inherent characteristics and challenges that affect the competitiveness of the province's agriculture sector. Among these are:
Recommendations
A proposed e-agriculture platform – using ICT tools, smart data management and farm management systems – will connect the various stakeholders and help farmers overcome current challenges.
The platform will consist of several access channels, such as mobile, kiosk, desktop, call center, radio, and television, among others.
The optical fiber network in Cambodia is growing at a rapid pace and most of the national highways are covered by the network. Kampong Cham's telecom infrastructure is relatively better than the rest of Cambodia with its telecom tower density reasonably good with multiple providers. More than 80% of the farmers use mobile phones and of those 20% use smartphones. High-speed internet is available at affordable rates and social platforms, including Facebook, are widely used to disseminate information.
The ICT solutions consist of four components that can improve the effectiveness and efficiency across the agricultural value chain and mitigate the inherent risks across stakeholder activities:
ADB. 2017. E-Agriculture Platform for Kampong Cham Province—Kingdom of Cambodia. Mandaluyong.
---