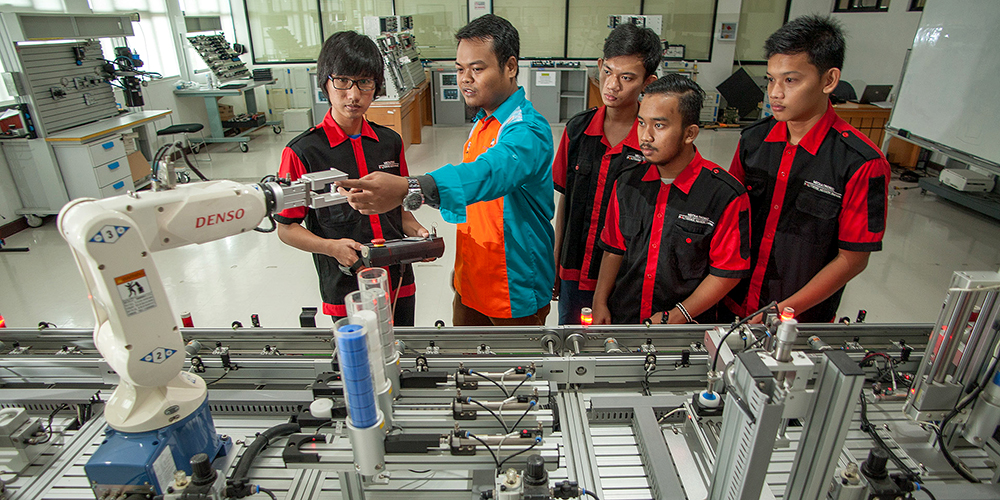 In a world of disruptive changes, Asian countries need to rethink education and skills training to build a resilient and agile workforce.
Published:
20 July 2021
Introduction
The Fourth Industrial Revolution (4IR) is reshaping the world of work—altering business models and requiring a new set of skills for workers to thrive in an increasingly competitive environment. Disruptions to the labor market are compounded by the impact of the coronavirus disease (COVID-19), widening inequities and accentuating the importance of investments in reskilling and upskilling to help displaced workers get new jobs. The twin shocks are catapulting economies into a more technology-driven world, thereby cementing the value of digital skills.
As countries in Asia look toward their post-pandemic recovery, policy makers need to use the digital momentum to rethink education and employment, including technical and vocational education and training (TVET) systems, to become better positioned for 4IR. Skills development and work readiness are the hallmarks of TVET and have a crucial role in shaping labor market outcomes and responding and adapting to 4IR. Dealing with COVID-19 goes beyond the immediate crisis and requires instituting reforms to build the resilience of TVET systems and identify concrete measures for the recovery and rejuvenation phases.
This policy brief is based on the 14th Policy Actions for COVID-19 Economic Recovery (PACER) Dialogue, Future of Skills Development in the Time of COVID-19, organized by the Asian Development Bank (ADB).
Challenges and Opportunities
Changing labor market conditions driven by the speed of technological progress have painted a worrying picture of the employment landscape. Concerns over robots replacing workers, technologies rendering some industries obsolete, and other potential perils of 4IR abound.
However, an ADB study largely offers an encouraging outlook for Southeast Asia. The positive income effects of 4IR adoption in the key industries examined across Cambodia, Indonesia, Philippines, and Viet Nam will outweigh the negative displacement effects. By 2030, job creation will be greater than displacement in all analyzed industries.
To realize the net gains from 4IR, countries need to prepare for automation, which will be particularly pronounced in low-skilled and routine jobs. Even though opportunities may surface from the wave of innovations, displaced workers may encounter challenges in their transition to new jobs. The rate of digital transformation may outpace efforts to retool and upskill talent, potentially leading to a supply and demand mismatch. ADB's analysis notes that productivity gains from 4IR, which are expected to increase income and create jobs, may take years to materialize.
Measures to prevent the spread of COVID-19, such as movement restrictions and lockdowns, laid bare the pre-existing inequities in the labor market. Many low-skilled workers and rural inhabitants are in occupations with low teleworkability, making them highly vulnerable. Informal workers, who depend on their daily wages to survive with minimal social protection, risk plunging into extreme poverty. Gender gaps are starkly apparent as women bear the brunt of the crisis due to increased domestic responsibilities. Gender inequity may perpetuate or even worsen under 4IR given the predominance of female workers in precarious work.
Education and training institutions were also ill-prepared to cope with COVID-19 challenges of providing online learning, which may be due to weak information technology (IT) infrastructure, IT skills gap of learners and teachers, and limited access to digital resources.
While building a 4IR-ready workforce, it is important to anticipate the shifts in skill requirements prompted by emerging technologies. ADB's findings show that training institutions are more optimistic about the graduates' preparedness for work than employers. For example, 96% of training institutions in Indonesia believe that their graduates are well prepared for work, but only 33% of employers in food and beverage manufacturing and 30% of employers in automotive manufacturing agree. If left unaddressed, this gap is likely to widen as digitalization unfolds. Other issues uncovered by the study include limited incentives for formal workplace training, weak lifelong learning models, and lack of agility of educational curricula.
Policy Options
Develop 4IR transformation road maps for key sectors
To maximize 4IR's productivity benefits and minimize job displacement, policy makers need to develop an implementation strategy that drives 4IR technological adoption while ensuring workers acquire and upgrade skills. Industry-specific transformation maps may be used to provide information on technology impacts, skills required for different occupations, career pathways, and the appropriate reskilling interventions.
Develop industry-led TVET programs targeting skills for 4IR
TVET programs would greatly benefit from the involvement of industry associations, which can help ensure the quality and relevance of courses being offered. It is paramount for educational institutions to constantly rethink and update their curricula to align programs with the needs of the 4IR economy, which will likely place a premium on critical thinking, technological proficiency, and soft skills, including creativity and problem-solving. These in-demand skills may also be cultivated through workplace-based trainings, which facilitate better coherence between education and work as well as ease the transition for students when they enter the workforce.
Upgrade training delivery through 4IR technology in classrooms and training facilities
At the core of 4IR is technology-driven change. Thus, it is critical to support investments in smart technologies for TVET delivery, such as virtual and augmented reality as well as digital capacity building for TVET instructors. A hybrid approach to 4IR instruction can be an optimal solution to not only help TVET institutions manage the costs of procuring tools and equipment but also accommodate learners at a digital disadvantage.
Develop flexible and modular skills certification programs
There is scope for expanding learning opportunities beyond school boundaries to foster workers' resilience against current and future shocks. Navigating a world of disruptions requires a culture of lifelong learning to help workers become agile, adaptable, and responsive to a dynamic economy. Equally crucial is the development of a flexible skills qualification program given the rising demand for modular learning and the need for recognition of skills acquired through nontraditional channels.
Formulate new approaches and measures to strengthen inclusion and social protection under 4IR
Responding to the evolving nature of work necessitates rethinking the social contract. As demonstrated by COVID-19, there is a strong need for social safety net provisions to protect workers from shocks, regardless of their employment status. Informality is a persistent issue in Asia, and freelance jobs are anticipated to proliferate owing to a booming gig economy. Therefore, social protection becomes even more vital.
In promoting inclusion, policy makers should pursue measures to ensure vulnerable segments of the population have access to skills training for 4IR. One way to do this is to use educational technologies, such as massive open online courses, which provide learning opportunities at low cost.
Implement an incentive scheme for firms to train employees for 4IR
The onus of skills development not only lies with the education sector but also with the business sector. Incentive programs can encourage investments in skills development. These need to be supplemented with measures to increase awareness of businesses on upskilling and reskilling opportunities.
To gauge the effectiveness of incentive schemes and training interventions on labor outcomes, a holistic cost–benefit analysis should be conducted, considering the direct economic costs and indirect economic benefits.
Policy Implementation
Over the years, the Technical Education and Skills Development Authority (TESDA) in the Philippines has embarked on notable reforms, including the institutionalization of the Philippine Qualifications Framework, which reinforces and strengthens the recognition of knowledge and skills acquired outside the formal education environment through a system of pathways, equivalencies, and credit transfers. Another significant development in the Philippine education sector is the K-12 reform, extending formal education to align with international norms and incorporating a distinct technical–vocational and livelihood track into the senior high school program.
Guided by its two-pronged strategy of TVET for Global Competitiveness and TVET for Social Equity, TESDA seeks to equip Filipino workers with 4IR skills and offer quality training. Using inclusive approaches, such as community-based training and scholarships, it endeavors to expand TVET access and respond to local needs.
TVETPH 4.0 Framework was developed to maximize opportunities brought by 4IR and to ensure the right competencies are imparted to learners, trainers, and institutions. With the onset of the pandemic, OPLAN TESDA Abot Lahat: TVET towards the New Normal was developed as a continuity plan to shift TESDA's systems, processes, and programs into the new normal. Flexible learning arrangements were introduced for TVET schools to utilize different delivery modes: distance learning, face-to-face learning, online learning, and blended learning. The TESDA Online program provided accessible and continued learning to Filipinos during the lockdowns.
In Singapore, the SkillsFuture movement is a national skills strategy to help build the foundation for a highly skilled, productive, and innovative economy. The program facilitates industry exposure through work–study programs for students and learning opportunities for workers at different points of their career. The private sector and industry stakeholders play a role in shaping the development of SkillsFuture initiatives by participating in the development of industry transformation maps and skills frameworks and providing employee training. For education and training institutions, the program aids the transformation of course delivery to ensure the flexibility and accessibility of learning.
Similarly, other countries in Southeast Asia have established a range of policies in relation to 4IR. Cambodia and Indonesia have clear national 4IR roadmaps, with the latter having an assessment of 4IR readiness in five priority sectors to guide specific 4IR technology adoption strategies for firms in each sector. In Viet Nam, lifelong learning appears to be a strong focus area driven by its network of local learning centers where training courses are offered. When it comes to collaboration, Cambodia, Indonesia, and Viet Nam underscore partnerships with employers, educators, and training institutions on skills development and offer demonstration of new technologies to stimulate company adoption and facilitate worker training through the establishment of innovation hubs.
Policy Outcomes
While the ADB study explored the implications of 4IR in selected Southeast Asian countries, the following outcomes focus on the Philippines. ADB conducted a comprehensive review of the country's TVET sector in the 4IR context along with the changing demand for labor in light of COVID-19.
The study finds that TVET in the Philippines is estimated to be an economically viable alternative to tertiary education, which entails higher direct and indirect costs. Despite representing less than 10% of TVET providers, public institutions accounted for 52% of the country's TVET enrollment in 2018. While returns to TVET differ depending on the level and the course, the post-secondary and tertiary levels exhibit largely positive returns.
Returns to Post-Secondary Non-Tertiary Education
(Lower Secondary Graduates as Reference)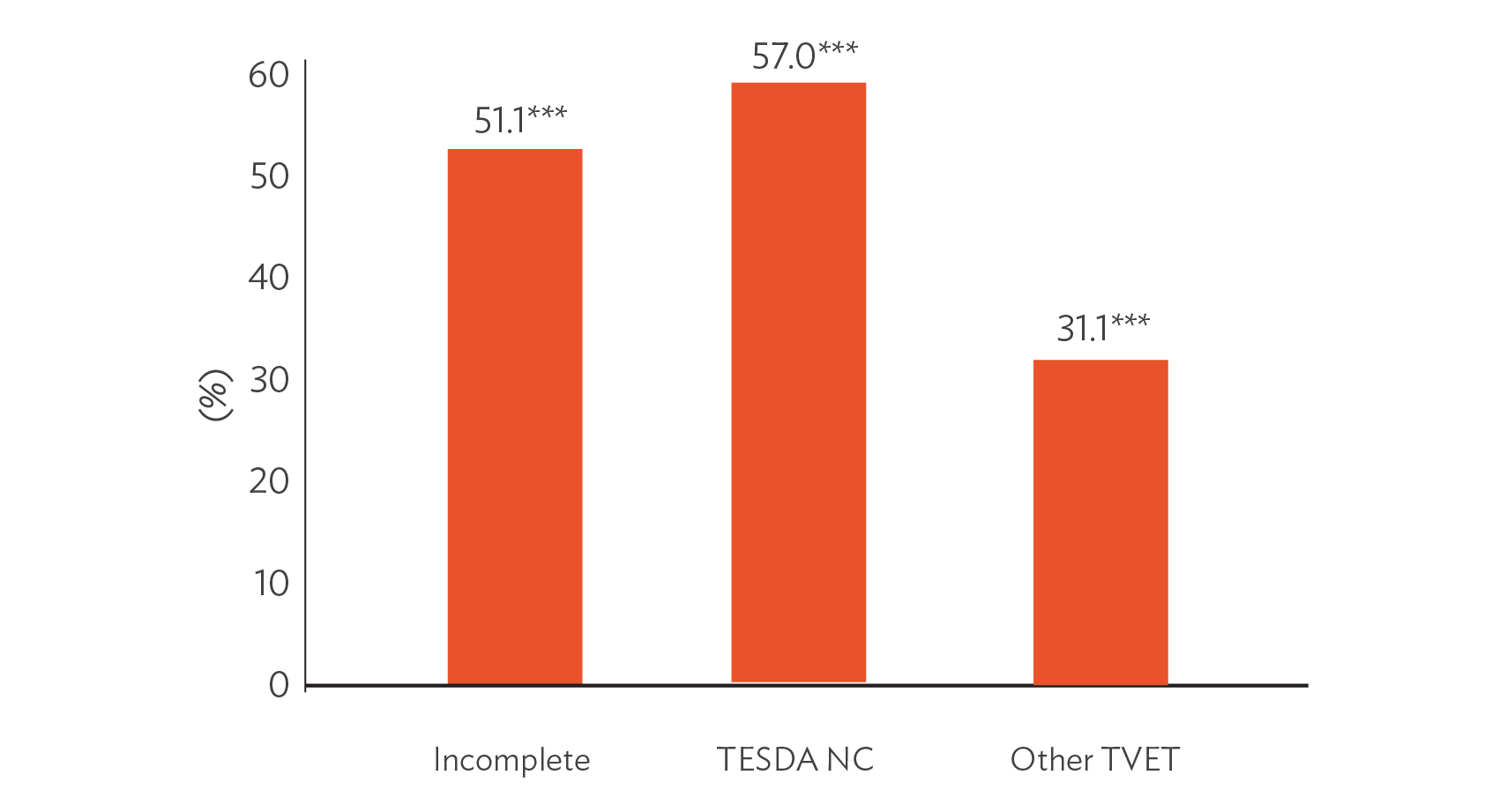 Another key point from ADB's assessment highlights the detrimental impact of the education and skills mismatch on TVET graduates' employability. This problem is attributed to the inability to keep the training curriculum, course offerings, and training equipment relevant to the job market. Using simple matching, TVET graduates recorded high mismatch rates ranging from 42% to 82% in 2013, 2014, and 2017.
Mismatch Rates Using Simple Matching Technique, 2013, 2014, and 2017 Graduates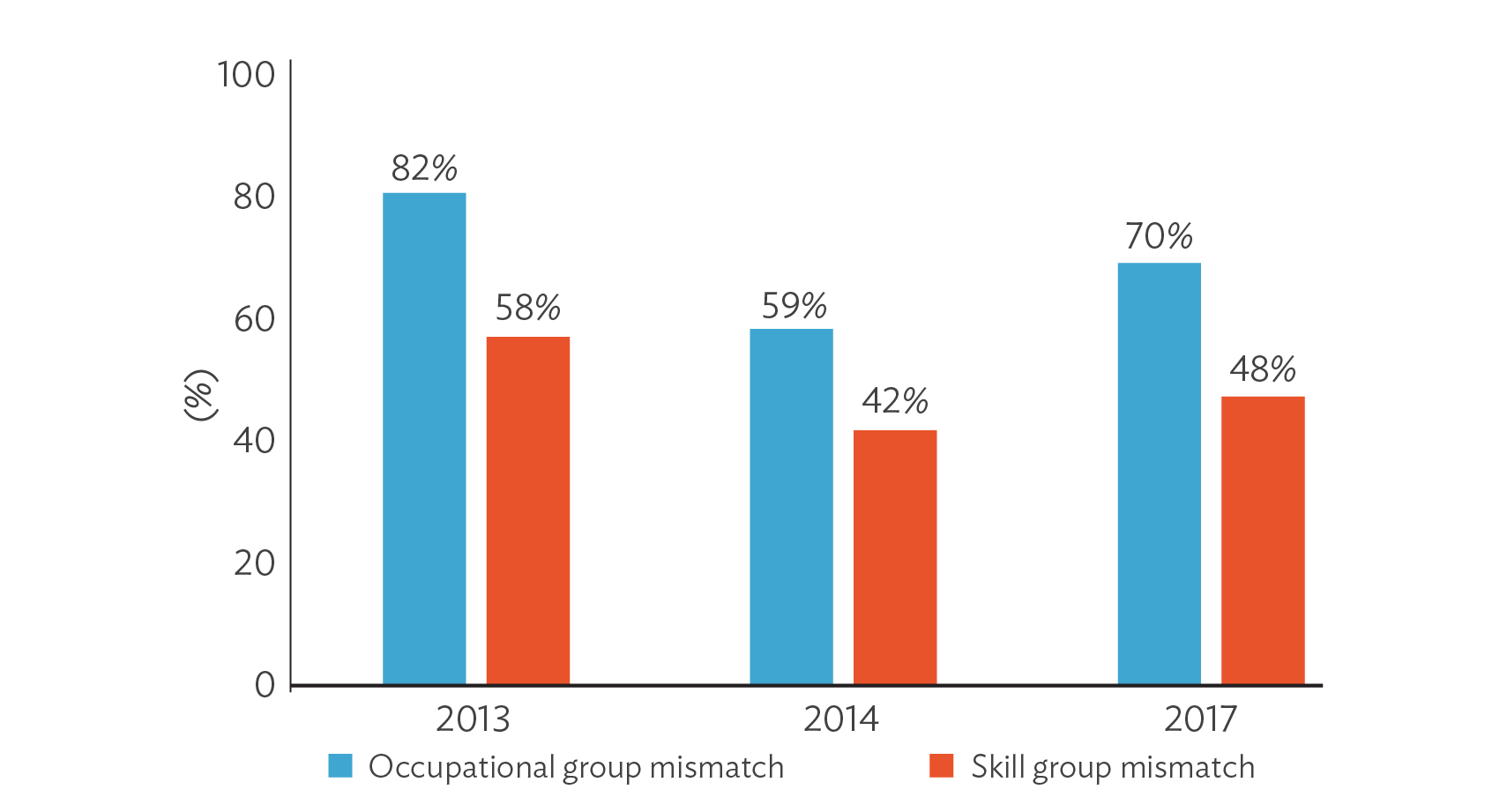 Findings also suggest that while the scholarships largely satisfy the objective of social equity, much improvement is needed in promoting competitiveness and productivity. Finally, although top courses in terms of TVET enrollment in recent years reflect growth sectors of the Philippine economy, these programs often lead to low-wage, low productivity, and nonroutine manual jobs, which are susceptible to automation.
Recommendations
Stimulate 4IR adoption and worker reskilling efforts
In a post-pandemic environment, building agile and responsive TVET systems calls for strong and even adoption of 4IR across enterprises and the workforce, greater participation of firms and workers in skills development, and strong awareness of in-demand jobs and skills. A whole-of-government-and-society approach is crucial to facilitating an aligned ecosystem aimed at creating relevant and effective nationwide retraining frameworks and catalyzing quality jobs.
As micro, small, and medium-sized enterprises may face hurdles in their adoption of 4IR technologies, there is a need to deepen efforts to support 4IR knowledge transfer from large companies to their MSME suppliers or subcontractors.
Create flexible qualification pathways
Lifelong learning is the antidote to shifting patterns of skills demand. As nonlinear careers are the new normal, workers must be able to navigate through multiple job transitions. Policy makers need to focus on improving the skills and competitiveness of workers to support economic diversification and reduce reliance on only a few economic sectors or on external demand. Policies should also be geared toward making curricula more reflective of industry needs and developing a flexible qualification framework for employment.
Build inclusiveness to extend 4IR benefits to workers
With the profound implications of 4IR—especially on women, informal workers, and marginalized groups, the imperative to strengthen social protection has never been clearer. Labor market programs can play a greater role in social protection systems to diminish vulnerable workers' exposure to risks.
In addition, technology should be harnessed to improve access to quality TVET and opportunities for all. Online platforms and advanced technology solutions could support 4IR instruction, but it is also important to keep in mind equity considerations in terms of access, affordability, and infrastructure. Finally, if young people are to benefit from 4IR, policies should seek to bridge the aspiration gap through mechanisms that can guide them to envision their prospects and tools that allow them to achieve career goals.
ADB. 2021. Technical and Vocational Education and Training in the Philippines in the Age of Industry 4.0. Manila.
R. Urdaneta. 2021. Transforming TVET in the Philippines: Dealing with COVID-19 in the Age of Industry 4.0. Presented at the Policy Actions for COVID-19 Economic Recovery Dialogues of the Asian Development Bank. 10 June.
S. Khatiwada. 2021. Future of Skills Development in the Time of COVID-19. Presented at the Policy Actions for COVID-19 Economic Recovery Dialogues of the Asian Development Bank. 10 June.
---