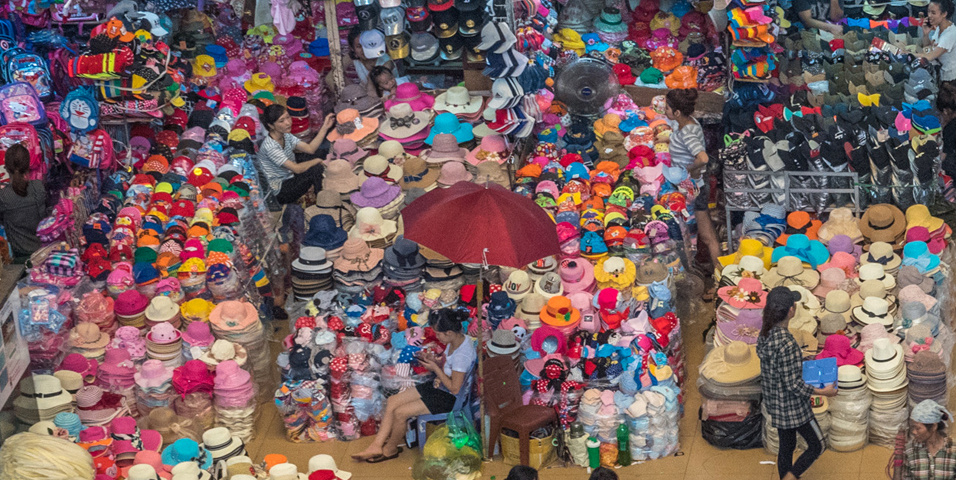 The story of a science professor turned entrepreneur shows skills and education were critical in growing from a micro to a medium-sized business.
Published:
24 October 2019
Introduction
Micro and small enterprises make up a large share of private enterprises in low- and middle-income countries. These enterprises drive job creation and, by the sheer size of their share in the economy, could significantly contribute to economic growth. They are however notorious for having low productivity. They are also less resilient and have been known to contract or close businesses during times of economic slowdown.
According to one of the first comprehensive studies on small firm growth conducted in 1998, only 1% of the micro segment (four employees or less) manage to increase their productivity and growth beyond 10 workers. The prognosis has not improved through the years. In Thailand, for example, the Asian Development Bank Institute reported that small and medium-sized enterprises comprised 98.5% of businesses but exhibited an employment growth rate of only 7.2% in 2012, compared with 8.3% in 2010.
By means of their employment generating capacity, micro and small enterprises could provide the solution to poverty and inequality. They could significantly contribute to economic growth if their productivity is increased.
However, their productivity and growth strategy are often flawed. Most micro and small enterprises lack innovative capacity and the resources to conduct research and development (R&D). Instead of finding niche markets or complementing large firms, many compete with large-scale producers in mass markets.[1],[2]
Access to finance is a chronic constraint to firms worldwide, but studies have shown that the problem lies equally in the demand side as well as in the supply side. Poor financial literacy and management hinder micro, small, and medium-sized enterprises from accessing and utilizing finance.
One commonly cited factor affecting productivity is the business climate. For years, the regulatory environment was seen as cumbersome, expensive, and bureaucratic. Studies have shown however that not only could entrepreneurs formalize their firms at any time, but also that the decision to do so was made only after the benefits of formalization began to outweigh the benefits of informality. Regulation—formalization in particular—was not found to be a binding constraint to enterprise productivity and growth.
The creation of productive firms requires an understanding of the growth constraints of micro and small enterprises and more importantly, an understanding of the growth strategies that successful small firms have undertaken in order to grow.
The story of how a female entrepreneur in Viet Nam grew her company into a medium-sized business provides insights on what enables micro enterprises to scale up.
Impetus for Business Growth
Nguyen Thi Chinh of the Linzhi Mushroom Company (LMC) overcame many of the common problems faced by micro and small enterprises. Her company was relatively unknown and had a small market for its product. It had low sales, low raw material supply, and low production capacity.
She was a full-time professor at the Viet Nam National University in Ha Noi when she started the business with her husband in 2001. The idea came from her projects at the university, which involved testing mushrooms for their anti-cancer properties and developing products (teas, powders, and capsules) to harness their health benefits. She set up a laboratory at home and teamed up with her students on research.
Nguyen quickly gained recognition for her products, receiving the VIOTEC award for innovation in science and technology in 2002. However, only a few people knew about her products. The company was not selling them fast enough and had to throw away stocks that had expired.
The business remained small for many years until Nguyen decided to take greater risks to expand and reorganize the company after losing a potential business partner and then the death of her husband. She leased farms to increase and stabilize her supply of mushrooms. She also cultivated and introduced imported varieties in the local market.
She delegated management and marketing roles to her children and focused her energies on R&D. She opened stores and showrooms in Ha Noi and Ho Chi Minh City to increase visibility and consumer awareness of her products.
Her big break came after receiving a large order from a pharmaceutical company in Thailand, where mushroom teas are widely used for cancer treatment. Her company now has 80 employees and five shops.
Nguyen received recognition from the World Bank and the Viet Nam government as an outstanding female entrepreneur and for her business creativity.
Analyzing the Growth Strategy
The factors that impact the growth of micro and small enterprises fall into two large categories: internal and external factors. Internal factors are those originating from the entrepreneur and the enterprise. These include human capital, psychological traits, age of the firm, location, sector, and industry. External factors are those originating from the networks and business environment. These include personal and professional networks, macroeconomic policies and political stability, regulatory business environment, infrastructure, access to finance, and availability of skilled labor.[3]
Internal growth factors
Nguyen is highly skilled and educated. Her training and education focused on innovative, low-cost ways to produce mushroom products. She visited mushroom farms and realized their double-barreled significance for poverty alleviation and for medicinal purposes. Her connection with and work experience at the university not only honed her laboratory skills and technical knowledge but also created the outlet for projects that eventually led the way to start her business.
She is not a risk-taker by nature. Unfortunate events made her realize she needed to start thinking strategically for the business and to treat it as a real independent company, instead of an extension of her university work.
R&D is at the heart of the company's operational success. In addition to her own company's rigorous research, she ensured quality by conducting three levels of testing for every new product.
The company employs multifaceted professionals and encourages open communication throughout the organization. Salaries and social contributions are paid regularly even during challenging times.
After expanding her product portfolio, Nguyen is now focusing on expanding the company's presence in strategic locations for shops.
External growth factors
The extent to which micro and small enterprises increase productivity and grow is impacted by the stage of economic development as well as the current state of the economy. The regulatory environment of Viet Nam has been favorable for women entrepreneurs as the country massively streamlined its business procedures following the World Bank's Doing Business approach.[4],[5] Registering the business and changing the legal form of the enterprise from sole proprietorship to limited liability company was an easy process.
Nguyen overcame constraints related to being unknown and inexperienced in business by tapping opportunities for self-improvement and networking. She took courses and participated in trade fairs and conferences, sometimes at her own expense. In terms of networks, the support of the family (initially her husband, followed by her children) is invaluable to her success. She founded the country's first mushroom association in response to the lack of a professional platform for producers like her. She approached hospitals to offer her products at a discount. These efforts increased her company's professional network and also ensured that it was in a network that affirmed the value of her product and offered her firm prospects for growth.
Lessons from the Case Study
Lingzhi Mushroom Company initially faced a host of constraints similar to barriers faced by other micro enterprises. The company, however, had several factors to its advantage: its founder and director had the skills, education, and work experience that provided the backbone for the activities it needed most— R&D.
There are two lessons that could be learned from how the company distinguished itself from stagnating micro enterprises. First, in order to overcome singular constraints, the entrepreneur used a combination of strategies that either complemented each other or strengthened their impact. For example, the company was struggling because Nguyen played multiple roles in the firm: farmer, lab technician, and technical and scientific adviser, on top of her job as a university professor. The strategy she used was to step down from her directorial responsibilities, focus on R&D, and delegate management to other people. Second, analysis suggests that a sustainable, innovation-driven enterprise growth relies on a highly motivated, risk-taking entrepreneur whose persona spells the difference between business stagnation and success.
What does the case of Lingzhi Mushroom Company imply for enterprise growth in general? The case study demonstrates two layers of stories that have implications for policy making on enterprise growth.At the foreground, it tells the sucess story of a widowed female entrepreneur in overcoming obstacles to upgrading a small firm. The background story shows how the inequality of opportunities impact growth trajectories for micro and small enterprises, and how this impacts economic growth and development on a macro level.
What the case study highlighted is that the government and the private sector have strong roles to play in minimizing inequality and in fostering productivity of micro and small enterprises. For instance, providing an enabling environment, such as improving ease of registration, is crucial for all businesses, but it is also about providing support mechanisms, such as business development services, financial literacy and access to credit, and networking opportunities.
Nguyen's case shows the importance of skills and education for creating innovative entrepreneurs. This means that the promotion of quality education at all levels for public schools and the provision of training and vocational education opportunities are imperative. Work experience is critical for entrepreneurial success. Therefore the provision of on-the-job training and exposure of graduates to lead firms are fruitful sources of entrepreneurship experience.
In Asia and the Pacific, the Asian Development Bank (ADB) has committed to sustain its efforts to eradicate extreme poverty under Strategy 2030, underlining support for human development and social inclusion to address the non-income dimensions of poverty. In skills and education, ADB has committed to assist its developing member countries to enhance graduates' employability and job-readiness, and support lifelong learning and training opportunities.
Constraints are unique with every enterprise and there is no one-size-fits-all strategy for success. By sharing this story and its lessons, may it inspire entrepreneurs and policymakers to devise innovative solutions to propel micro and small enterprises to grow.
This article is adapted from Lingzhi Mushroom Company: Not Your Typical Mushroom Management,[6] Chapter 12 of Asian Agribusiness Management Case Studies in Growth, Marketing, and Upgrading Strategies, with permission from World Scientific Publishing Co. Pte. Ltd.
---
A. Hampel–Milagrosa et al. 2018. Lingzhi Mushroom Company: Not Your Typical Mushroom Management. In R.D. Christy et al., eds. Asian Agribusiness Management Case Studies in Growth, Marketing, and Upgrading Strategies. Singapore: World Scientific Publishing, Singapore.
A. Hampel-Milagrosa and C. Reeg. 2016. Micro, Small and Medium Enterprises as Drivers for Job Creation and Decent Work. United Nations Department of Economic and Social Affairs.
A. Hampel Milagrosa, A.M. Loewe, and C. Reeg. 2015. The Entrepreneur Makes a Difference: Factors Determining the Upgrading of Micro, Small, and Medium-Sized Enterprises: Evidence from Egypt, India, and the Philippines. World Development. 66 (2). pp 118–130.
A. Hampel-Milagrosa, A.M. Loewe, and C. Reeg. 2014. Entscheidende Faktoren fuer das Wachstum von Klein und Kleinst-unternehmen. KfW Development Research. 5. 12 February.
A. Hampel-Milagrosa et al. 2010. Gender Related Obstacles to Vietnamese Women Entrepreneurs. UN Gov Joint Programme on Gender Equality.
D.C. Mead, and C. Liedholm. 1998. The Dynamics of Micro and Small Enterprises in Developing Countries. World Development. 26 (1). pp 61–74.
N. Yoshino et al. 2015. Importance of SMEs in Thai Economy. Asia Pathways. Asian Development Bank Institute.
E. Barterlsmann, J. Haltiwanger, and S. Scarpetta. 2004. Microeconomic Evidence of Creative Destruction in Industrial and Developing Countries. Discussion Paper Series 1374. Bonn: IZA Institute for the Study of Labour.
R.D. Christy et al., eds. 2018. Asian Agribusiness Management: Case Studies in Growth, Marketing, and Upgrading Strategies. Singapore: World Scientific Publishing, Singapore.
T. Altenburg, A. Hampel-Milagrosa, and M. Loewe. 2017. A Decade On: How Relevant Is the Regulatory Environment for Micro and Small Enterprise Upgrading after All? The European Journal of Development Research. 29. pp 457–475.
T. Altenburg, and U. Eckhardt. .2006. Productivity enhancement and equitable development: Challenges for SME development. Vienna: United Nations Industrial Development and Organization Research Programme Combating Marginalization and Poverty through Industrial Development.
World Bank. 2013. World Development Report 2013: Jobs. Washington DC: International Bank for Reconstruction and Development/World Bank.
World Bank. Ease of Doing Business in Viet Nam.
---