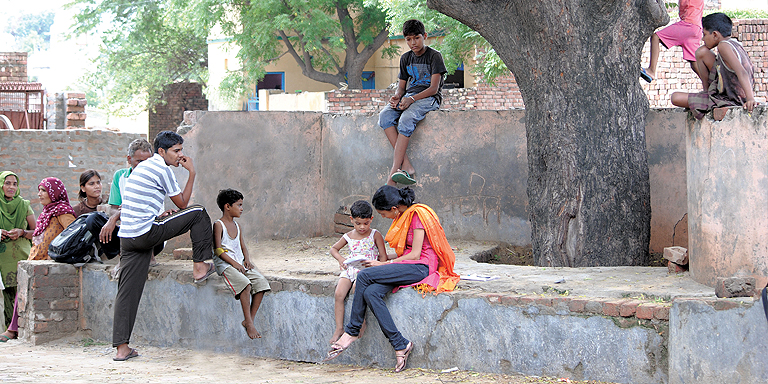 The Annual Status of Education Report (ASER) shifted the focus to learning from schooling and helped design pedagogy to address learning gaps.
Published:
12 March 2020
Introduction
In 1999, the Government of India introduced Sarva Shiksha Abhiyan—a flagship education program aimed at universalizing primary school enrollment. By 2005, this yielded results with enrollment levels close to 95%. However, Pratham's work in the communities showed that while children were in school, they were not learning. Pratham is one of India's largest non-government learning-focused organizations.
At that time, discourse in education—nationally as well as internationally—focused on enrollment, access, and other schooling inputs. The assumption was that "schooling" would lead to "learning." Parents understood the importance of schooling but not that of learning. The government routinely produced data on inputs and expenditure, but there was no culture of using large-scale evidence to inform policy. It was time to shift the focus to learning by starting a national conversation where all stakeholders could participate.
In a bid to shift the conversation to learning, Pratham in 2005 started the Annual Status of Education Report (ASER)—an innovative approach to assessing children's basic reading and arithmetic skills and designed to address the ground realities in developing countries like India.
Analysis
In 2001, the Government of India introduced the National Achievement Survey in an attempt to measure learning outcomes. It was a standard, school-based, pen-and-paper survey that was pegged to the school curriculum and in the mold of assessments seen in developed countries.
In addition, data and findings from the survey were not in the public domain and, therefore, unlikely to spark a public debate. More importantly, the question was whether these measures and methods that had evolved in the developed country context suited the needs and capabilities of a country like India.
In particular, assessments in developing countries had to play an additional role of changing mindsets in order to prioritize children's learning. To do this, measures and evidence had to be such that policymakers, practitioners, and parents could:
Understand the need to look beyond schooling to learning.
Identify the challenges faced by children for learning.
Enable immediate action based on data at different levels.
Innovative approach to student assessment
The Annual Status of Education Report (ASER) was created and designed to show a new approach to assess student learning. The contextual factors that ASER had to address and the decisions that were taken to do so are discussed below.
ASER's innovation is its use of household-based assessments of foundational reading and math, administered to children ages 5–16 by local volunteers. It uses a floor level tool, where the highest level for reading is at Grade 2 while the highest level for math is at Grade 4. The testing tool is given in Figure 1 below.
Figure 1: ASER Reading and Math Tool

While the front end of ASER is very simple, it has a sophisticated back end designed to generate reliable and comparable estimates—representative at the district level. In each district, 30 villages are sampled from the census village directory. In each village, 20 households are surveyed. All children in the age group of 3–16 years are surveyed in the sampled household and all 5–16-year-old children are tested in reading and math.
Today, ASER is the largest citizen-led survey in India, and the only annual source of information on children's learning outcomes in the country. The survey was conducted every year from 2005 to 2014. After a break in 2015, a new series of ASER started in 2016 where the large-scale survey in every rural district is done every other year. ASER 2018 surveyed 546,527 children in the age group of 3–16 years, in 354,944 households, across 17,730 villages in 596 rural districts of India.
Impact
When the first ASER report was released in 2005, nobody was talking about learning. Today, the situation is very different, with national as well as international goals being stated in terms of learning.
With the focus shifting to learning, several state governments are using the ASER tool and results to design teacher training policies and pedagogy to address learning gaps. ASER data has also been cited in numerous government documents such as the Economic Survey and Five-Year Plan documents.
The ground realities of India and the inclusive architecture of ASER have resonated with organizations in other developing countries. Today, ASER-like initiatives are being done in 12 other countries—Kenya, Tanzania, Uganda, Nigeria, Mali, Senegal, Mexico, Pakistan, Mozambique, Bangladesh, Nepal and Nicaragua. Collectively, they are referred to as Citizen-Led Assessments and together they reach more than 1 million children annually.
The global influence of ASER is perhaps best summarized by Ruth Levine, former program director of global development and population at Hewlett Foundation, who was cited in Bold Philanthropy in India: Insights from Eight Social Change Initiatives. She said: "I am sure that it was the ASER Centre's work that led to the introduction of learning measurement into the Sustainable Development Goals."
The eco-system today is very different from when ASER started. There is now a recognition of the learning crisis not just in India but also globally. The United Nations' Millennium Development Goals, set in 2000, focused on universalizing access and enrollment in education; but its Sustainable Development Goals, set in 2015, aim to ensure minimum learning outcomes for school children. Since learning deficits are the largest in developing countries, learning assessment data for these countries needs to provide evidence that is actionable for improving children's learning. Citizen-led assessments offer an alternative model for measuring learning that is inclusive and more relevant for the ground realities in developing countries today.
Pratham. Teaching at the Right Level.
---