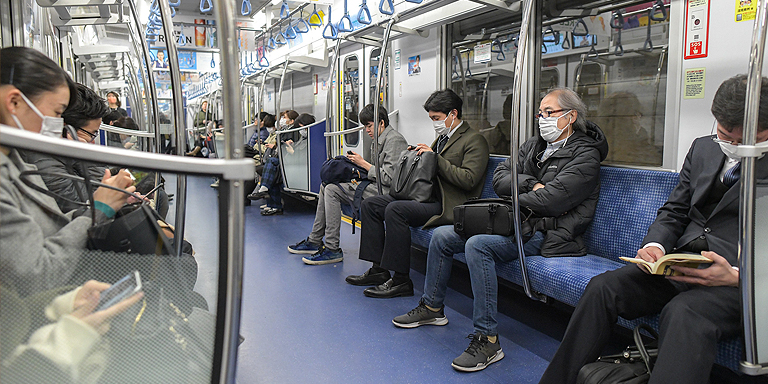 Response, recovery, and adaptation measures ensure the safety of commuters and make transport systems resilient to COVID-19 and future disasters.
Published:
15 September 2020
Introduction
The spread of coronavirus disease (COVID-19) since the beginning of 2020 has been dramatic in terms of its speed, scale, and economic and social impact. The highly interconnected nature of 21st century globalization allowed the virus to reach nearly all the corners of the globe within a few months.
Transport has played a central role in the spread of the virus. It has also played a critical role in enabling frontline and essential workers to get to work and in delivering essential goods, such as medicines, during the pandemic, and will continue to play an enabling role to support the different needs of the population throughout the different stages of recovery.
This article is adapted from the Guidance Note on COVID-19 and Transport in Asia and the Pacific published by the Asian Development Bank (ADB). The paper looks at how the pandemic is affecting travel demand and mobility patterns in the region and the role of transport in exit strategies from COVID-19 restrictions. It provides guiding principles and good practices in transport operations to support economic recovery, including detailed bounce-back measures for each subsector. It also looks at the future of transport after COVID-19.
Changes in Social and Travel Behavior
Mobility restrictions in response to COVID-19 have resulted in drastic changes in travel behavior (see Figure 1). Swift lockdowns across the globe have forced all nonessential workers to work from home almost overnight, and schools to shift to e-learning. With the closure of brick-and-mortar shops and restaurants during the containment period, consumers have flocked to online shopping and food delivery.
The sharp reductions in economic activity have also curbed regional and national freight transport activity. Urban freight and logistics, on the other hand, have prospered in many places because of the increased online shopping and food deliveries.
Figure 1: Impact of COVID-19 on Transport in Asia and the Pacific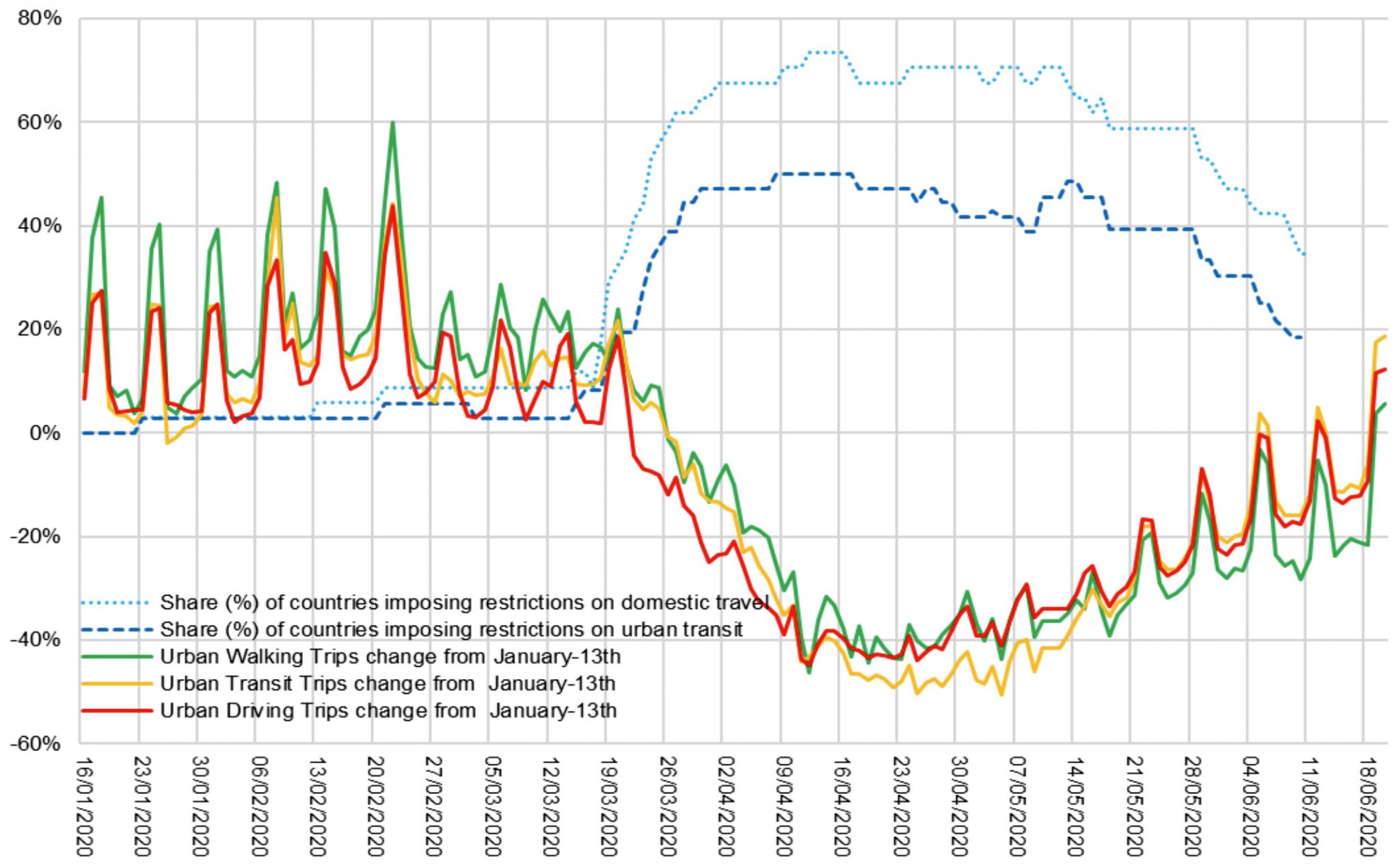 The overall picture that emerges is one of a sharp decline in transport activity after lockdowns or other forms of restrictions were imposed in the second half of the first quarter of the year. But there is a silver lining to the reduction in travel—air pollution levels and road accidents have gone down.
Transport activity bottomed between mid-April and mid-May, after which a gradual return to pre-COVID-19 levels can be observed following a relaxation of restrictions, either because the virus has been brought under control, or because governments argued that they had no choice but to reopen the economy even though the virus had not been brought fully under control.
Concerns over close physical contact have also affected perceptions of quality and attractiveness of different travel modes. While public transit may have been perceived previously as a mostly efficient and affordable mode of travel, initial trends in cities that have reopened have indicated that public transit is still considered to be unsafe compared with using private vehicles, cycling, and walking. It is quite likely that a new norm will emerge with increased uptake of these private modes of transport compared with pre-pandemic times. If so, the new behaviors could change trip patterns across the different travel purposes. With a return to pre-pandemic transport activity levels, reductions in air pollution, carbon dioxide (CO2) emissions, and road accidents might well be a temporary phenomenon.
Three-Stage Strategy and Framework
Some governments have launched financial stimulus measures in response to the pandemic. The transport sector is benefitting from these through financial support to the airline industry, the automotive sector, and public transit companies. Within the global transport community, a range of good practices is being developed that policy makers, regulators, and especially transport operators in Asia can take to enhance the health resilience of transport systems and reduce the likelihood of infections of the users as lockdowns are eased.
ADB has developed a bounce-back strategy and framework for each transport subsector to assist countries exiting lockdowns (see Figure 2). The strategy covers three phases—the response phase in the immediate term (up to 3 months), the recovery phase in the medium term (up to 1 year), and rejuvenation in the longer term (after 1 year). In the case of repeated waves of transmissions, countries may fall back to earlier phases midway through the recovery, and the successive phases in the three-stage process are repeated. This is a stylized strategy and it is important to be aware that the actual response will vary between countries and cities, and between different transport subsectors within countries and cities.
In the response phase, travel is still expected to be limited, with the focus mainly on allowing essential workers to travel and for the shipment of goods. Measures include protecting transport staff and passengers, and frequent cleaning and sanitization. Complementing these measures, a robust system of contact tracing and health monitoring should be put in place.
In the recovery phase, travel restrictions are relaxed. Measures to streamline cargo movement include the establishment of dedicated lanes for freight vehicles and coordinated travel documentation requirements across borders to remove duplicative processes. For passenger movement, systems gradually open up with enhanced sanitation, face mask protection, thermal scanning, and tracing measures. Many urban transport systems are relaxing social distancing measures to ensure sufficient capacity.
In the rejuvenation phase, further preventive and precautionary operating measures are introduced, together with advanced technology to enable contactless processes and facilitate an agile response. As a complementary measure, capacity for walking and cycling could be scaled up to accommodate people who would normally have taken public transport. To cope with lower and uncertain travel demand on public transit, aviation, and certain strategic freight routes, it is critical to assess if restructuring or subsidies for concessions or service agreements is required to ensure essential transport links are kept open, and core transport and freight operators remain financially viable.
Figure 2: Bounce-Back Strategy to Exit a Lockdown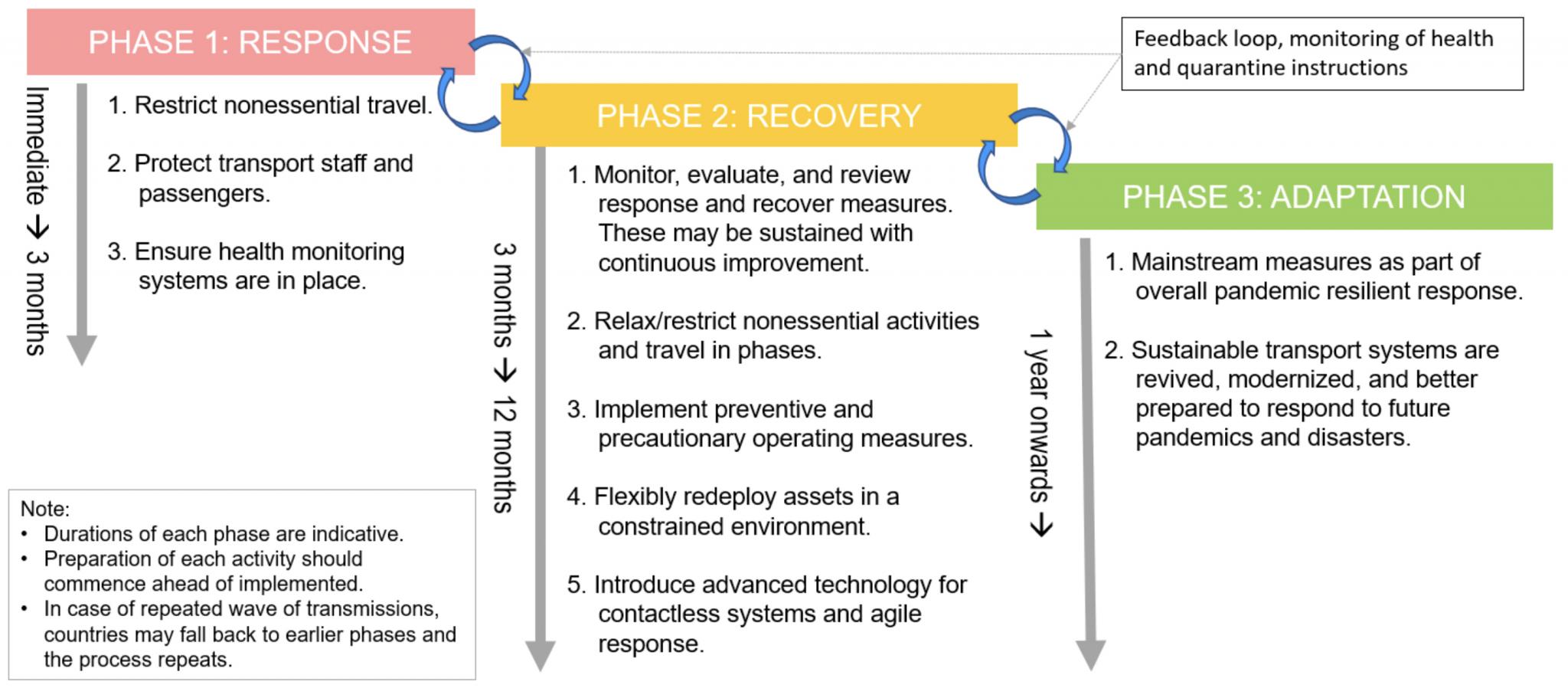 Regardless of the COVID-19 pandemic, developing Asia and the Pacific will continue to have a substantial need for additional transport infrastructure and services. There will be a continued demand for multilateral development banks, such as ADB, to play an important role in the development of transport infrastructure and services in Asia. Not all the transport operations supported by ADB are equally sensitive to COVID-19 during the development and implementation phase or in their subsequent operation.
National, urban, and rural road-based projects can largely proceed as planned with precautions built-in for workers, especially during the construction phase. Urban public transport projects are likely to be the most sensitive given the uncertainty of future usage and the length and intensity of the pandemic.
New Solutions for the New Normal
The fight against COVID-19 is expected to be a long journey. Some experts believe that COVID-19 may not be wiped out completely until a vaccine is developed and disseminated widely. In the meantime, new solutions are required to enhance the resilience of transport services and infrastructure to keep economies running and growing in the new normal without compromising public health.
Technological advances, big data, artificial intelligence, digitalization, automation, combined with behavioral change that prioritizes more sustainable transport options offer fresh innovative solutions to the development of the transport sector. Enhanced efforts in such areas can help realize the Sustainable Development Goals and the climate goals under the Paris Agreement while considering COVID-19 lessons, which has highlighted the need for a more robust transport system that is "green" and resilient to future disasters.
---