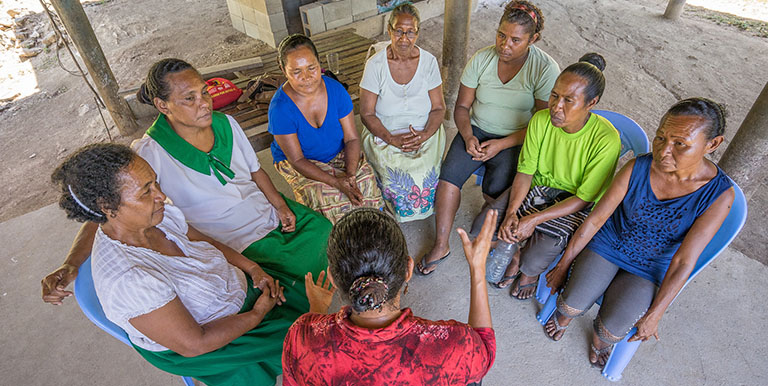 Appreciative Inquiry, Most Significant Change, Social Audit are activities that can be used to engage stakeholders in project evaluation. 
Published:
02 May 2019
Introduction
What you need to know
Engagement of key stakeholder groups in operations financed by the Asian Development Bank (ADB) promotes good governance, transparency, innovation, responsiveness, and development effectiveness. Effective engagement of stakeholder groups, including civil society, project beneficiaries, and project-affected people, requires the understanding and effective use of participatory tools throughout the project cycle. However, while one participatory tool may work well in one context, it may not be appropriate in another. This series of explainers provides a range of tools from which practitioners can pick and choose, according to different phases of the ADB project cycle, context, and available time/resources. Some tools may be specific to particular phases in the ADB project cycle, such as monitoring and evaluation tools, while others may be used throughout the project cycle, such as participatory assessment tools.
This piece focuses on Tools for Monitoring and Evaluation.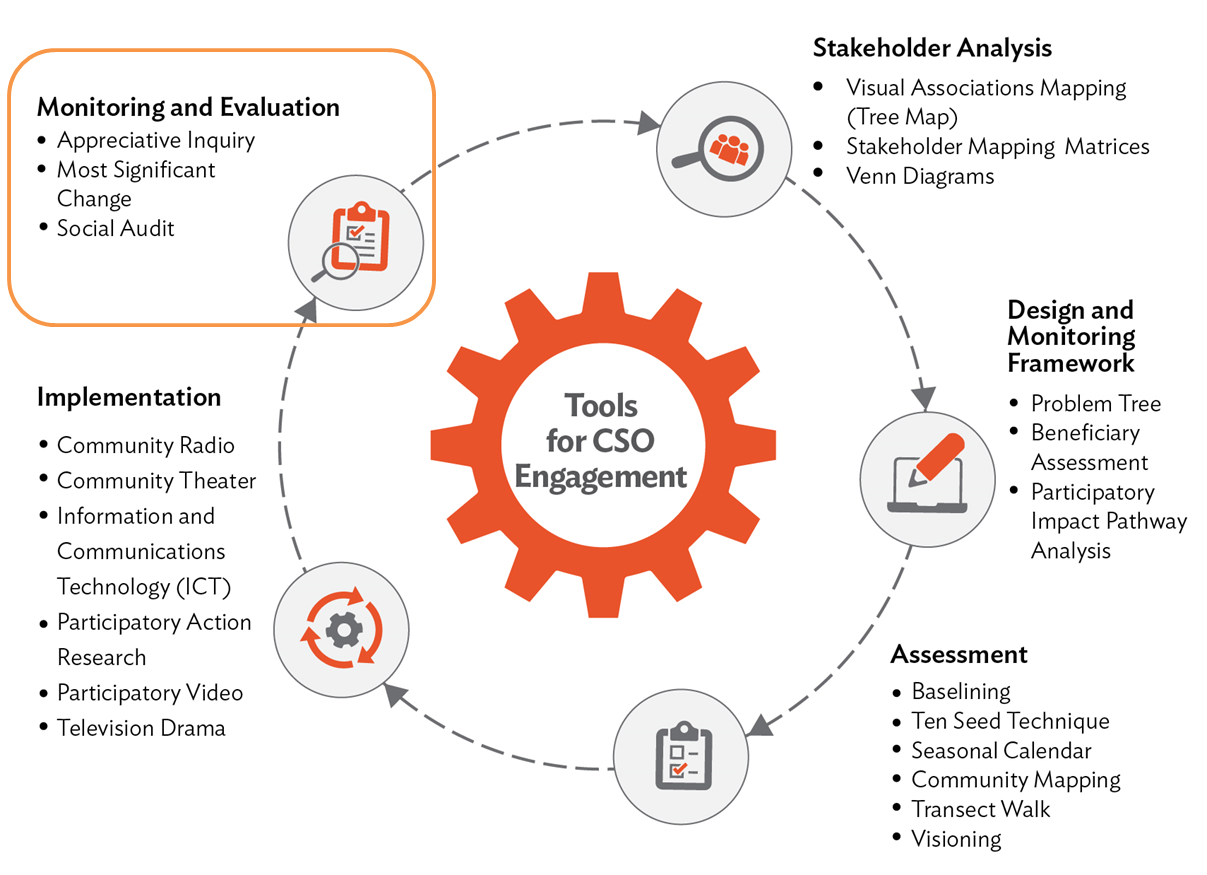 Tools for Monitoring and Evaluation
Participatory monitoring and evaluation is the process of engaging key stakeholders in the evaluation of a project or program. Stakeholder participation can occur at any phase of the project monitoring and evaluation cycle. Stakeholders can participate in the evaluation design, including forming the evaluation questions and choosing the evaluation approach, collection of data, analysis of data, preparing recommendations and how results are used. Participatory engagement of stakeholders provides for improved development results and is fundamental to good governance and transparency.
Appreciative Inquiry
Most Significant Change
Social Audits
Some Do's and Don'ts
Do
Plan for participatory evaluation at the design stage.
Engage CSOs and communities early in the process and provide communities with opportunities for input into the selection of participatory evaluation techniques.
Be clear on the purpose of the evaluation and the role that CSOs and communities are expected to play.
Articulate the benefits that using a participatory approach will bring to the evaluation and to the stakeholders involved.
Adequately resource the participatory evaluation effort.
Inform CSOs and communities of the outcome of the participatory evaluation.
Use the learnings from the evaluation in the design of future projects.
Ensure that the evaluation utilizes the expertise and experience of women.
Use simple evaluation tools.
Don't
Have unrealistic expectations of the knowledge, skills and time availability of CSOs and communities – most will require significant training and support in using even the simplest M&E tools. This should be planned for in the evaluation design.
Expect that all stakeholders will want to participate in the evaluation.
Use overly complicated evaluation methodologies.
Limit CSO and community engagement to data collection efforts.
Give up! Participatory evaluation can empower communities and help future project design.
Participation Tools for the Pacific - Part 2: Stakeholder Analysis
Participation Tools for the Pacific - Part 3: Design and Monitoring Framework
Participation Tools for the Pacific - Part 4: Assessment
Participation Tools for the Pacific - Part 5: Implementation
Participation Tools for the Pacific - Part 6