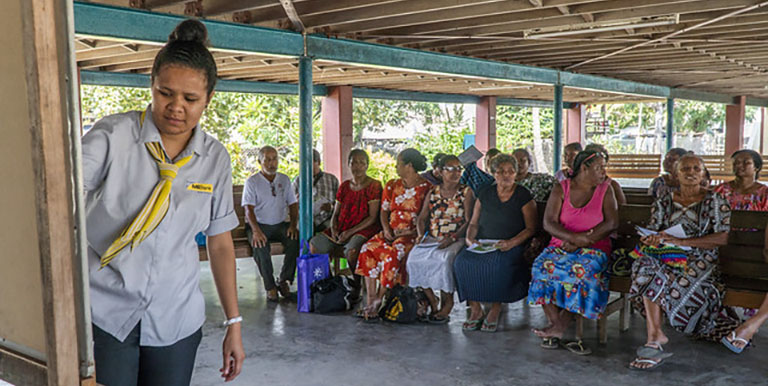 Problem Tree, Beneficiary Assessment, and Participatory Impact Pathways Analysis are useful tools when preparing the design and monitoring framework for CSO engagement.
Published:
02 May 2019
Introduction
What you need to know
Engagement of key stakeholder groups in operations financed by the Asian Development Bank (ADB) promotes good governance, transparency, innovation, responsiveness, and development effectiveness. Effective engagement of stakeholder groups, including civil society, project beneficiaries, and project-affected people, requires the understanding and effective use of participatory tools throughout the project cycle. However, while one participatory tool may work well in one context, it may not be appropriate in another. This series of explainers provides a range of tools from which practitioners can pick and choose, according to different phases of the ADB project cycle, context, and available time/resources. Some tools may be specific to particular phases in the ADB project cycle, such as monitoring and evaluation tools, while others may be used throughout the project cycle, such as participatory assessment tools.
For this piece, the focus is on Tools for Preparing the Design and Monitoring Framework.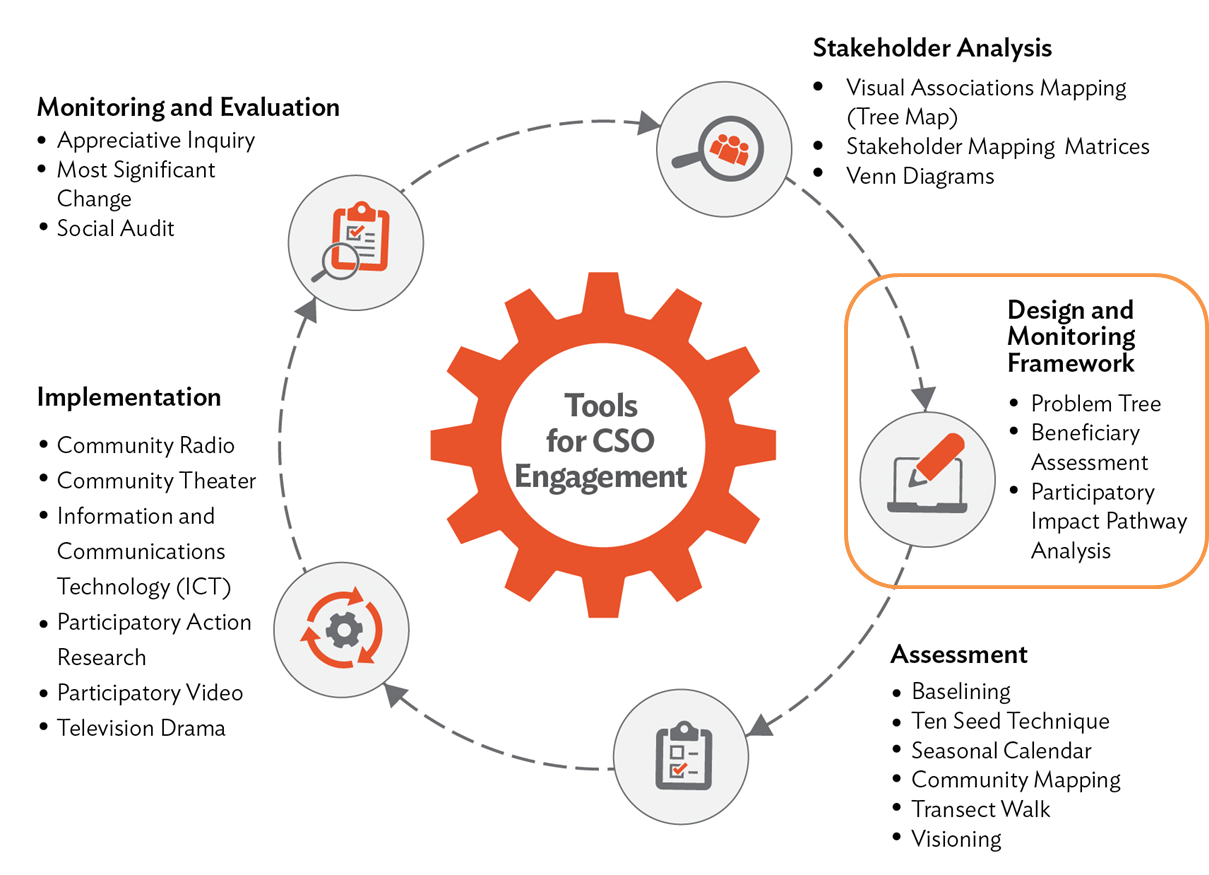 Tools for Preparing the Design and Monitoring Framework
The Design and Monitoring Framework must be founded on a participatory approach for the following reasons:
ADB-assisted projects should be designed to respond to the needs of beneficiaries and be designed with the direct involvement of those beneficiaries.
Participatory approaches build ownership of projects by beneficiaries and key stakeholders.
A group process usually creates a better and more relevant design and monitoring framework.
Problem Tree
Problem analysis is one of the key steps of the design and monitoring process. It is done by developing a problem tree, which should be conducted in a participatory way.
Beneficiary Assessment
Participatory Impact Pathways Analysis
Some Do's and Don'ts
The following suggestions for inclusive engagement with civil society organizations at the design stage come from AusAID's Guidance on M&E for Civil Society Programs:
Do
Engage in effective power and gender analysis as key drivers of change
Focus on building a common vision of change tailored to the local context
Ensure that there is an appropriate and representative mix of perspectives involved, based on the power and gender analysis
Ensure that adequate time, space and resources are built into the design for ongoing reflection, sense-making, and learning
Ensure gender is properly considered at analysis and design
Don't
Push CSOs or subcontractors working with CSOs to focus on narrow objectives at the expense of the process and creation of trust
Assume that the design or analysis is correct; it will need to evolve over time
Compartmentalize CSOs - respect their mandates and autonomy
React punitively if your policies are challenged by CSOs; try and navigate different views with curiosity
Participation Tools for the Pacific - Part 2: Stakeholder Analysis
Participation Tools for the Pacific - Part 4: Assessment
Participation Tools for the Pacific - Part 5: Implementation
Participation Tools for the Pacific - Part 6: Monitoring and Evaluation
Participation Tools for the Pacific - Part 3