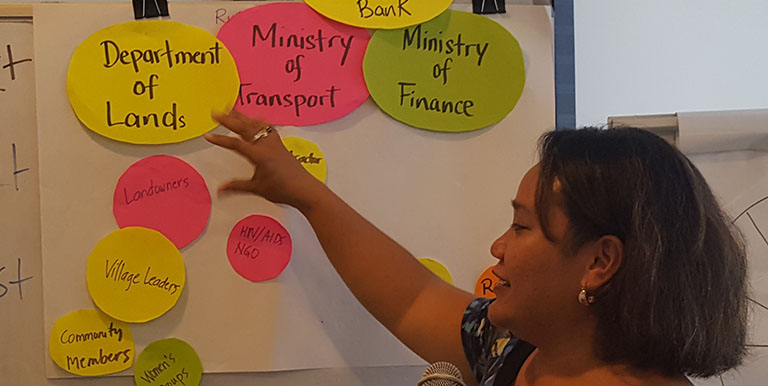 Visual Associations Mapping, Stakeholder Mapping Matrices, and Venn Diagrams can be used as stakeholder analysis tools for CSO engagement in the Pacific. 
Published:
02 May 2019
Introduction
What you need to know
Engagement of key stakeholder groups in operations financed by the Asian Development Bank (ADB) promotes good governance, transparency, innovation, responsiveness, and development effectiveness. Effective engagement of stakeholder groups, including civil society, project beneficiaries, and project-affected people, requires the understanding and effective use of participatory tools throughout the project cycle. However, while one participatory tool may work well in one context, it may not be appropriate in another. This series of explainers provides a range of tools from which practitioners can pick and choose, according to different phases of the ADB project cycle, context, and available time/resources. Some tools may be specific to particular phases in the ADB project cycle, such as monitoring and evaluation tools, while others may be used throughout the project cycle, such as participatory assessment tools.
This piece focuses on Tools for Stakeholder Analysis.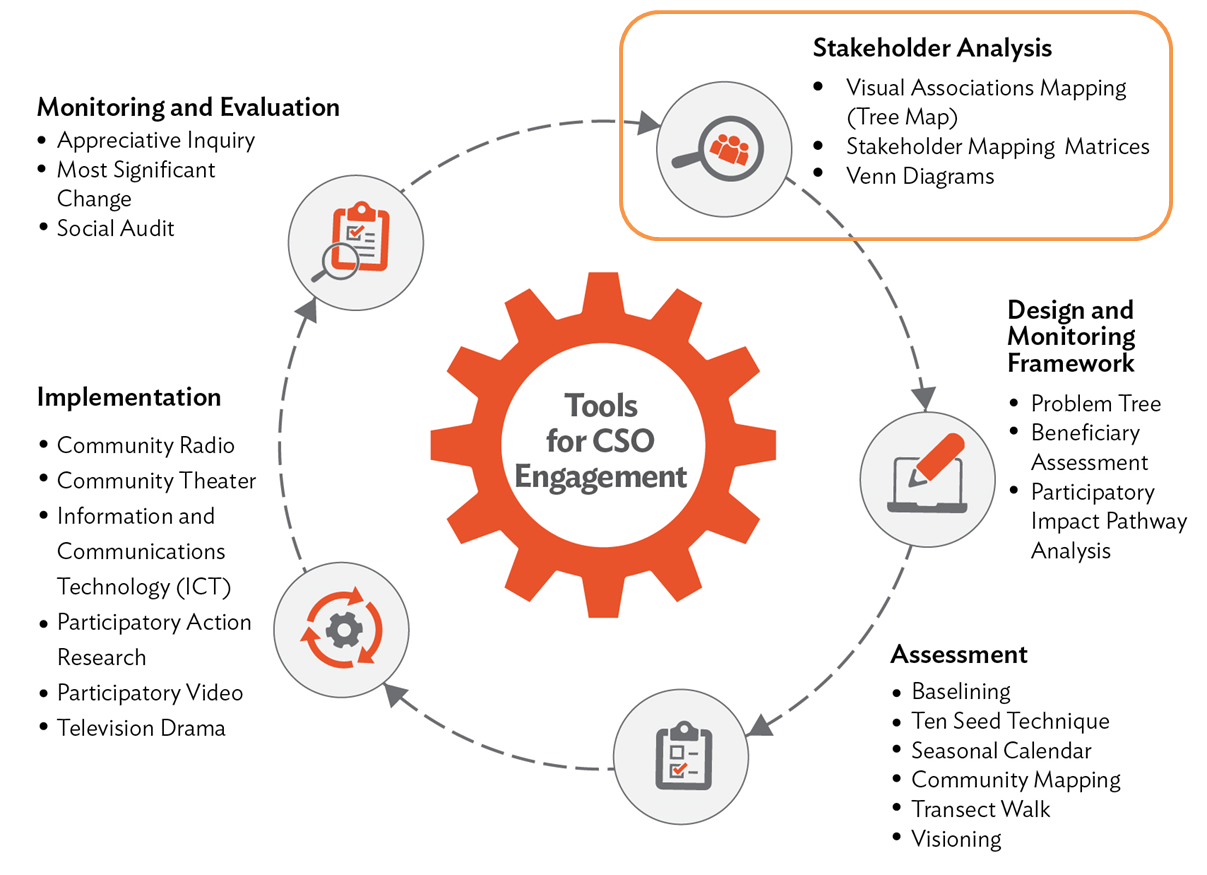 Tools for Stakeholder Analysis
Identification and analysis of stakeholders in ADB-assisted activities is a basic and key component of participatory approaches to engagement. Many stakeholder identification and analysis tools exist to identify stakeholders relevant to a project or policy. Several of these tools are visual tools, as opposed to text-heavy tools, which are often more readily understood and utilized in the Pacific.
Visual Associations Mapping (Tree Map)
Stakeholder Mapping Matrices
Venn Diagrams
Key Questions to Ask
Have resident mission staff (e.g., the CSO Anchor) and other key informants helped identify stakeholders?
Are all relevant stakeholders identified and listed?

Marginalized and vulnerable groups (especially poorest groups, ethnic minorities, female-headed households, and migrant groups)?
Main client/beneficiary groups?
Groups who will be negatively affected by the project?
All potential supporters and opponents of the project?
All different kinds of male and female stakeholders (using gender analysis if necessary)?
Should these stakeholders be divided into user, occupational, age, income, or ethnic groups?
Participation Tools for the Pacific - Part 3: Design and Monitoring Framework
Participation Tools for the Pacific - Part 4: Assessment
Participation Tools for the Pacific - Part 5: Implementation
Participation Tools for the Pacific - Part 6: Monitoring and Evaluation
Participation Tools for the Pacific - Part 2