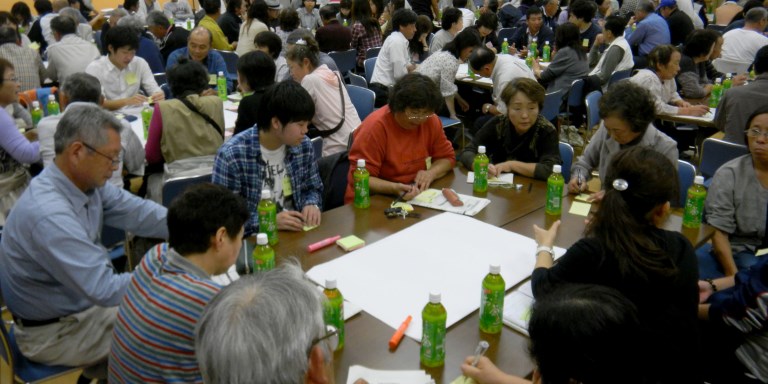 After a devastating earthquake and tsunami struck Japan in 2011, communities in Higashi Matsushima City led recovery efforts and built a smart city.
Published:
06 October 2017
Overview
The Great East Japan Earthquake of 2011 devastated the city of Higashi Matsushima. This magnitude 9 quake did not only flatten homes and buildings, it also caused waves of tsunami that swept away what the quake failed to demolish.
This disaster however did not shake the city's spirit. Residents and communities immediately went back to ground zero to clear the rubble and begin the slow process of recovery and rebuilding. Backed by Japan's policies on disaster management and a collective vision to "Build Back Better," the city was able to revive key livelihoods and build new smart communities.
Project snapshot
Dates

April 2011: Start of project

Institutions and
Stakeholders
Financing


National Government of Japan

Implementing agency


Eight community centers (Akai, Miyato, Nobiru, Omagari, Ono, Oshio, Yamoto-Higashi, and Yamoto-Nishi)

Others


Higashi Matsushima Organization for Progress and Economy, Education, Energy (HOPE)
Japan International Cooperation Agency (JICA)
Context
Japan is among the world's most quake-prone countries, as one in 10 earthquakes happen in and around it. However, the Great East Japan Earthquake of 2011 differs from the many earthquakes experienced by the country. This magnitude 9 tectonic earthquake brought unprecedented damage, particularly to Higashi Matsushima City. On March 11, 2011, it hurled waves of tsunami to the city, inundating about 65% of the land area.
Challenges
The earthquake has left 1,109 people dead and 24 others missing. Nearly three in four housing units in the city were either destroyed or damaged. As a result, more than 15,000 people had to be evacuated to 106 shelters.
The damage caused by the earthquake and ensuing tsunami overwhelmed medical care and health services, cut power and water supply, and paralyzed transportation, communications and other logistical support for response.
Solutions
After the earthquake and the tsunami, people immediately came back to lead humanitarian, recovery, and rehabilitation efforts. Eight community centers immediately established 106 temporary shelters for residents whose houses were damaged. These centers also set up soup kitchens and developed a system for reporting missing persons and identifying recovered victims.
The eight community centers were Akai, Miyato, Nobiru, Omagari, Ono, Oshio, Yamoto-Higashi, and Yamoto-Nishi. They are self-governing bodies with civil powers that were highly maximized during the Great East Japan Earthquake and its aftermath. Each community center has a president, three vice-presidents, one accountant and 20 secretaries. Together they make up the executive committee that meets monthly to discuss community matters, such as the environment and general affairs.
These community centers implement measures before, during, and after a disaster in accordance with an agreement of cooperation they signed, together with the local construction association, in July 2005. This agreement was led by the city government in preparation for the 90% probability that a major earthquake would happen within 20 years on the shore of Miyagi Prefecture. They were also guided by the Recovery-Reconstruction Policy released by city hall a month after the earthquake. The policy detailed the measures the city and its residents need to do to rebuild Higashi Matsushima.
Financial support for the reconstruction was covered by the national government under the country's Disaster Response Basic Law. The national government also subsidizes the daily living expenses as well as the relocation of victims of major disasters.
Higashi Matsushima Future City Model
The earthquake and tsunami reduced many structures to rubble. This moved the three-way partnership among the local government, residents, and the local construction association to immediately recycle and sort the ruins into 19 categories. They believed that sorting the rubble soon after the quake would turn these into resources instead of waste. It was the beginning of their recovery.
The city then began to create its reconstruction plan by coming together in places such as shelters, centers, schools. Residents and city officials, guided by committees and experts, expressed their opinion on how to rebuild the city. Through workshops and discussions, the city formulated the Higashima Matsushima Reconstruction Plan. Newsletters were produced and distributed to residents to ensure that they were well-informed of what was discussed in the workshops and meetings.
The reconstruction plan embodied the city's collective sentiment: "Toward the future together while never forgetting that day." It had a threefold vision for the community:
a safe, disaster-resistant community;
a community where people can live safely and happily and;
a community that promotes industry and creates work opportunities.
The plan outlined the reconstruction initiatives and the activities that will be conducted in the short and long term. It aimed to build back better a new Higashi Matsushima: one that is adapted to the environment, senior-friendly, and disaster preventive and resilient. The plan was not just about recovery, it was also about building the Future City—smart communities that have safe housing complexes; disaster surveillance, prevention, and mitigation facilities; renewable energy centers; and environmentally friendly basic services and facilities, such as schools and homes within forests and plant-based medicines, among others.
Collective relocation was prioritized in the city, as this was expressed by over 80% of residents who participated in the workshops. This was guided by a set of building restrictions and guidelines (by-laws on tsunami disaster prevention area) that delineates which areas should be kept free from structures and the standards that should be met when building structures in designated areas. About 3,000 households destroyed by the tsunami were relocated to seven relocation points in Higashi Matsushima. These relocation sites were situated in areas with accessible public transport.
Livelihoods were also revived right after the disaster. The agriculture and industry sectors were prioritized. Agricultural areas destroyed by the tsunami were immediately rehabilitated and some disaster-stricken residential areas were converted to agricultural land. The fisheries sector, one of the city's main sources of livelihood, was also revitalized. The fishermen returned to work soon after the disaster. Dry seaweed and oyster facilities, as well as fixed net fishing, were also repaired and reconstructed immediately after the disaster.
To help carry out the activities needed to achieve its vision, the city tapped the Higashi Matsushima Organization for Progress and Economy, Education, Energy (HOPE). It is made up of companies that assisted in realizing the environmental Future City concept by acting as the intermediary agent between the private sector and government. It helped supply safe and reliable energy, build a settlement project, and introduce community-based industries, such as beer brewing.
The city also partnered with the Japan International Cooperation Agency (JICA), which dispatched volunteers to help evacuate residents and in the operation of temporary shelters. It also helped in the reconstruction of the city.
Results
Smart and disaster-resilient communities
As of December 2016, six relocation complexes have been established and public ­housing for about three thousand households are in the last stages of completion. More than half of the public housing are now occupied. Over 600 households are still in temporary housing units.
The city also prepared multiple protection facilities with layered embankments that serve as tidal walls. Tsunami surveillance cameras were installed near the coast, which can transmit data even if power or internet connection breaks down. Radio receivers were distributed to each household.
The new housing units and facilities in one relocation site, Higashi-Matsushima Disaster-Ready Smart Eco-Town, were made smart and eco-friendly through a community energy management system operated by a private-line power producer and supplier that also owns a solar photovoltaic system. During peak demand, a local supplier pitches in to satisfy electricity demand. This system not only reduces carbon emissions but also ensures power is supplied locally.
To reduce its carbon footprint further, the city also reconstructed forests by planting crops, building a school, and a symbolic dragon treehouse. These forests also serve as relaxing and de-stressing areas for children and adults, especially those traumatized by the disaster.
When disaster strikes again, people will have renewable energy supply, as well as an area where they can feel nature as a friend, not an enemy.
Restored livelihoods
As of 2015, 90% of farmlands were restored while an additional 20 hectares of land were rented out to farmer organizations. Former residential lands devastated by the tsunami and earthquake were converted to agricultural lands after the rubble were cleared.
The city also recovered 100% of its seaweed facilities and 90% of oyster and fishing facilities.
Tourism rates decreased in the city after the earthquake. However, what once were tourist beaches and boating spots are now becoming sites for disaster education and study tours.
Lessons
The city's recovery efforts yield many lessons that can help other cities rise from the ruins. One lesson stands out from the rest for it has shaped the renewal of the city. Higashi Matsushima already had a disaster preparation plan and guiding policies even before the earthquake struck. After the incident, this plan was renewed—it was made bigger and better. The plan was guided by the policy the city government released a month after the earthquake. Its implementation was also made easier by the country's Disaster Response Basic Law, which provided financial support.
The community played a big role in the city's recovery. Active collaboration among the residents through the civic communities, the local government, and the private sector has slowly rebuilt a better and stronger Higashi Matsushima. In times of disaster, there is no greater force that can get a city back on its feet than the unity of its people. The residents manifested this by immediately coming back after the waters receded to clean up the city, run soup kitchens, and manage rescue, recovery, and rehabilitation efforts.
Recovery and reconstruction efforts were also aligned with the people's needs and views. Restricted areas were expanded based on the effects of the tsunami. Residents were relocated to inland and upland areas upon their consensus. Key livelihoods were prioritized, such as agriculture and fisheries to enable residents to quickly recover financially. Plans and policies clearly respected and integrated the residents' opinions. The city showed that building back better means building with the community.
The city's renewal is not yet done. It is an ongoing process. But the bond its residents shared as a community enabled them to rise from the rubble and slowly rebuild and renew Higashi Matsushima.
Resources
A. Hideo. 2015. Low-Carbon and Resilient Energy Supply Systems Using Regional/Local Resources. Slideshow presentation in PDF. Available at Institute for Global Environmental Strategies (IGES) website.
Asian Development Bank. 2017. Proceedings of the Asia Leadership Program 2017 in June. Asian Development Bank Institute. Tokyo, Japan.
Japan International Cooperation Agency. 2013. The Study of Reconstruction Processes from Large-Scale Disasters. Chapter 7: Noteworthy Actions and Major Tasks Ahead Related to the Reconstruction from the Great East Japan Earthquake.
Japan Meteorological Agency. 2016. Earthquakes and Tsunamis: Disaster Prevention and Mitigation Efforts. Tokyo, Japan.
Law Library of Congress. 2013. Japan: Legal Responses to o the Great East Japan Earthquake of 2011. Washington, DC.
M. Furoyama. 2017. Community Development for Reconstruction in Higashi Matsushima City. Presented at Asian Development Bank's Asian Leadership Program 2017. Asian Development Bank Institute. Tokyo, Japan.
Prime Minister of Japan and His Cabinet website. Revitalizing Higashimatsushima as a Future City – Renewal of Higashimatsushima.
World Health Organization. 2012. The Great East Japan Earthquake: A Story of Devastating Natural Disaster, A Tale of Human Compassion. Manila: WHO Regional Office for the Western Pacific.
---