EXPLAINER
Coping with Changing Demographic Structures through Modular Housing
Published:
24 June 2019
In the Republic of Korea, modular homes assembled like LEGO units are being developed as a response to the growing need for small to mid-size housing.
Introduction
There is a growing demand for single or two-person residential housing units in the Republic of Korea because of the country's rapid aging trend coupled with low fertility rate.
Government data in 2017 revealed that Korean women are projected to have only 1.05 children in their lifetime, far short of the 2.1 needed to maintain population stability. Fewer and fewer young people are getting married because of soaring unemployment. Experts also cited the high cost of raising a child, long hours of work, and limited daycare options as contributing factors.
Likewise, in 2016, the number of elderly people in Korea exceeded the number of young people for the first time in history.
This trend prompted the increasing demand for small to mid-size rental housing. With skyrocketing residential rent and lease fees, high school or college graduates, university and college students, newlyweds, household of three or less, and senior citizens are left with limited options.
Korea Institute of Civil Engineering and Building Technology recognized the potential of modular housing as a fitting solution to this socioeconomic problem.
Efficiency of Modular Housing
Modular houses are built through modular construction system which is more eco-friendly and faster method than onsite construction. In this system, over 70% of the housing components like windows, outer walls, front and back doors, bathroom, electrical wiring and piping, bath, and kitchen are produced and prefabricated in factories. These parts are then delivered to the construction site and assembled like LEGO blocks.
Modular system is effective in buildings with repeated, identical spaces, such as dormitories, studios, or hotels, making it suitable for apartment complexes for single- or two-member households. If demolished, modular housing will not produce construction waste. Instead, it can be reused as structure for new houses.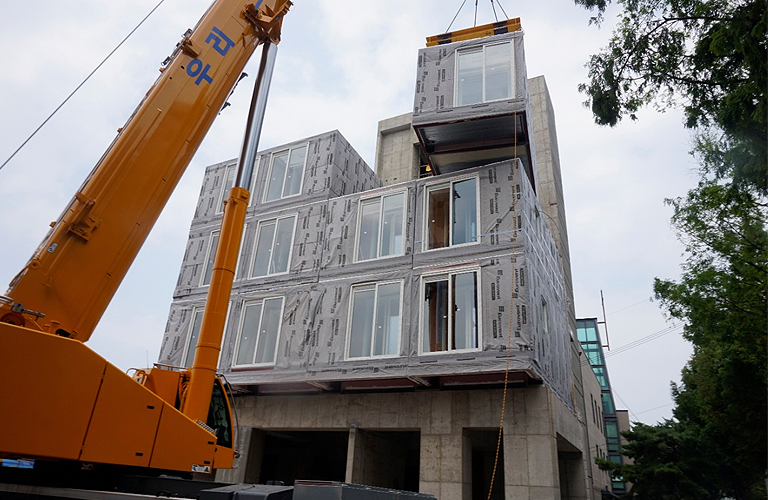 Enhanced Modular Housing Model
The institute studied public rental houses that were built using the modular construction method. The results of the study were the basis of the development of design technology, environmental performance, structural and construction technologies, manufacturing productivity improvement, and quality control technologies for customer-tailored modular housing construction.
A new model that meets housing construction standards and one that is capable of solving the common technical challenges of modular housing namely structural safety, sound insulation, and fire resistance was developed.
Structurally safe mid-rise building
Prior construction technologies in the Republic of Korea could only guaranty the structural safety of up to three-story modular homes.
The new model used lightweight synthetic floor panels with increased shipping and lifting efficiency and internal and inter-modular joints that can support optimal structure performance. These secured the structural safety of modular homes with more than five floors – a first in the Republic of Korea.
Soundproof and fire resistant units
Noise insulation flooring structure and dry-wall construction were used to block external and inter-household noise transmission.
To prevent the heat bridge and airtightness phenomena, shapes were joined in a stepped structure while integrated external thermal insulation corner walls were installed to improve the heat insulation of the units.
Cost-efficient construction
The new model was designed using the Modular Coordination (MC) and Building Information Modeling (BIM)-Integrated Design System. BIM allows developers to create virtual versions of the building through 4D simulations. This is a safe means for engineers to test building design and materials thus lessening the cost of actual execution. This reduced the design and construction duration by 10%.
Applying the Design
In 2017, the six-story Gayang Complex in Gayang-dong, Gangseo District, Seoul was completed. It is the Republic of Korea's first multi-family public rental housing built using the modular construction system and can accommodate 30 households. This was erected 50% faster than a typical reinforced concrete construction. The housing units are now used for Seoul Metropolitan City's public rental housing programs for young people who just started their careers.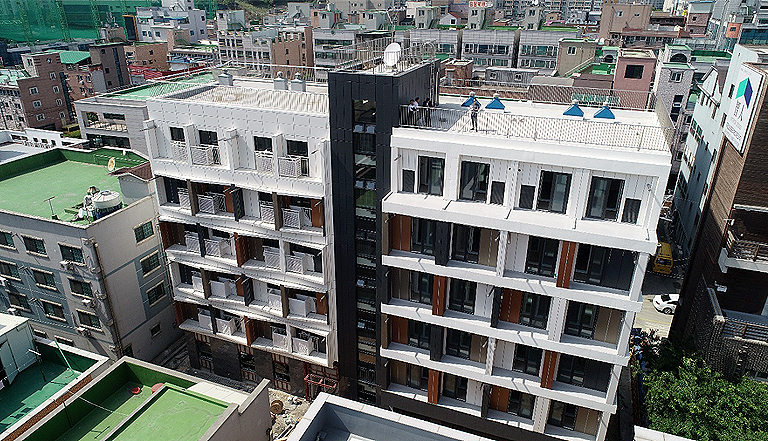 In 2018, the institute, in collaboration with Korea Land and Housing Corporation, built the second modular housing for public rental projects in Cheonan City, Chungnam Province.
Resources
Korea Institute of Civil Engineering and Building Technology. 2017. Modular Public Rental Housing to Lead the Change in the Residential Facilities Trend.
KICT. 2017. Celebrating the Completion of Modular Houses in Gayang-dong.
2019. South Korea's Fertility Rate Falls to Another Record Low. The Strait Times.
Park Si-soo. 2017. No. of Seniors Surpass the Youth for 1st Time: Census. The Korea Times.
Steve Miller. 2019. South Korea Aims to Turn Around 'Extreme' Birth Rate Crisis. Vox.  
Leave your question or comment in the section below:
---
YOU MIGHT ALSO LIKE
---
---
Disclaimer
The views expressed on this website are those of the authors and do not necessarily reflect the views and policies of the Asian Development Bank (ADB) or its Board of Governors or the governments they represent. ADB does not guarantee the accuracy of the data included in this publication and accepts no responsibility for any consequence of their use. By making any designation of or reference to a particular territory or geographic area, or by using the term "country" in this document, ADB does not intend to make any judgments as to the legal or other status of any territory or area.
---
Was this article useful?
---