CASE STUDY
A Comprehensive Strategy and a Practical Solution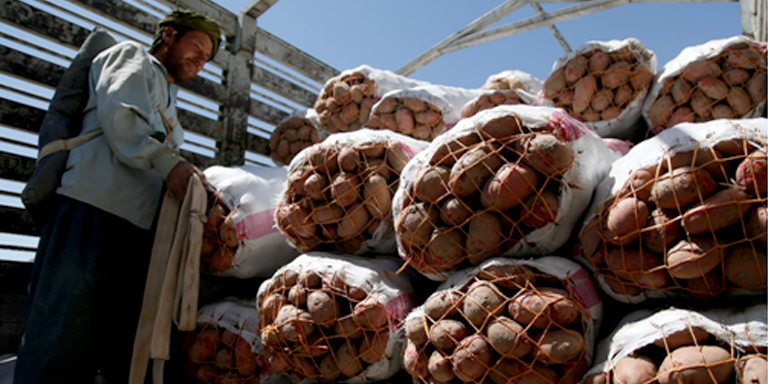 Published:
06 November 2018
An integrated solution fueled by partnership and practicality radically reduced harvest losses and increased farmer incomes in rural Afghanistan.
Overview
A Comprehensive Strategy
The Enhanced Agricultural Value Chains for Sustainable Livelihoods Project aims to improve Afghanistan's rural sector by addressing agricultural issues in a comprehensive way. Instead of focusing on a single component, it looked at the entire agricultural value chain and provided solutions where an issue was found, making sure that nothing gets left behind. This strategy ensured that the components needed to improve farmers' incomes and to stimulate local and national growth are well in place.
This project was urgently needed. Afghanistan is one of the least developed countries in the world. Its poverty rate was 55% in 2016 and 44% of its inhabitants were considered food insecure.1 The average per capita gross domestic product (GDP) was $630 between 2011and 2016, ranking Afghanistan 168th of the 183 countries as reported by the World Bank.2
The country's major source of livelihood is agriculture. The sector employed 62.2% of the national workforce of 10.9 million people in 2017 and contributed 21.9% of the GDP amounting to $4.1 billion in 2016.3 Agriculture is a significant source of foreign exchange earnings, contributing $375 million or 48.6% of total export earnings of $771 million in 2016.
Project information
Project snapshot
September 2012: Approved
June 2017: Completed: Active (physical activities ended)
$18.50 million: Grant Amount
$29.48 million: Project Cost
Financing

Asian Development Bank/Japan Fund for Poverty Reduction
Executing agency
Afghanistan Ministry of Finance
Implementing agency
Afghanistan Ministry of Agriculture, Irrigation, & Livestock
Challenges
War and Poverty
Almost 85% of the Afghan people live in rural areas, and most are dependent on agriculture. About 36% of households rely on farming as their main income. Some 6% of households depend on farm wages.
Farmers know that productivity and poverty do not go together. The little they harvest is further reduced because they lack the infrastructure needed to store their produce. They must sell them right after harvest as any delay could cause their crops to perish. This hinders rural communities from selling their produce at optimal prices.4
Although government capacity is improving, it still needs further support. The insurgency in Afghanistan continues to hamper its development, affecting the lives of the Afghans. Access to basic services is also handicapped by Afghanistan's deteriorated road network. The country needs about $4 billion for the next 3 years to fill its infrastructure gap—an amount way too high for a country battered by war and poverty.5
Solutions
Building on Strength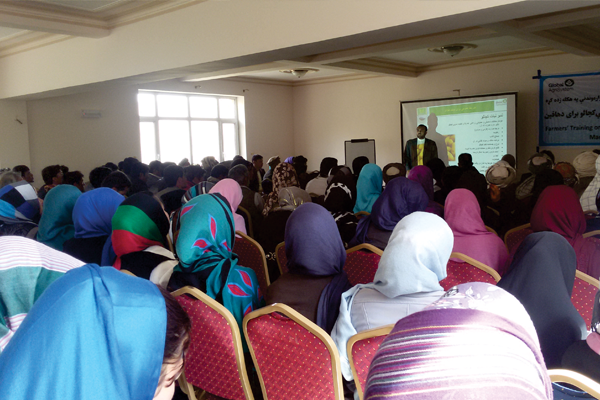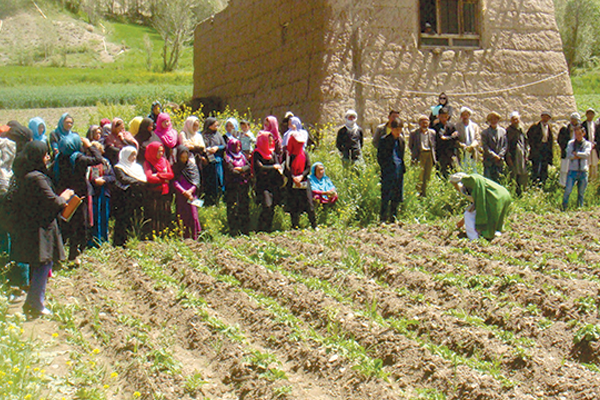 This project built on the gains made by an earlier project cofinanced by ADB and the Japan Fund for Poverty Reduction (JFPR)—the Rural Business Support Project. It built 1,100 potato-storage facilities for poor farmers in Bamyan Province from 2007 to 2011. The Enhanced Value Chains project, co-financed by another $18.5 million grant from JFPR, replicated this solution and spread it beyond Bamyan to the provinces of Kabul and Parwan.
Partnership
This project banked on the three-way partnership of ADB, JFPR, and the Afghanistan government. This collaboration has given the rural poor the opportunity to produce more efficiently, reduce their post-harvest losses, and increase their incomes because it allowed the three organizations to combine their resources to directly benefit the rural poor. ADB provided technical expertise and project oversight, JFPR provided the grant, and the government contributed to project implementation.
Practicality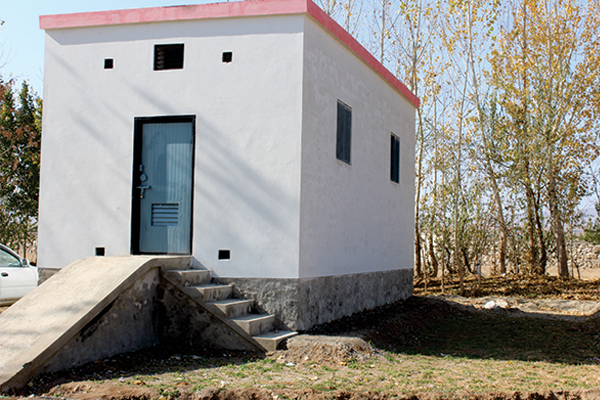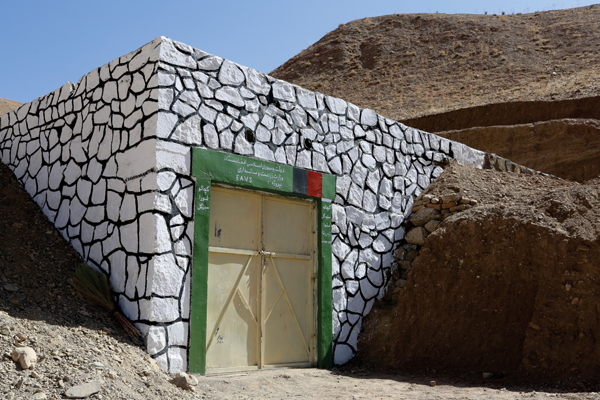 The storage facilities this project provided did not use state of the art technology; it replicated the storage facilities in Bamyan province made from bricks and stones. These structures reduce damage from weather and pests and keep the internal temperature within 7–10 degrees Celsius and relative humidity below 95%. They are partly below the ground and do not require energy. This simple and practical structure can store potatoes for up to 3 to 5 months, with losses of only around 3%, reduced from 40% through traditional potato storing facilities.
Capacity Building
The project also built the capacity of farmers and cooperatives on better production and management techniques, including improved vegetable farming and storage. The project linked the farmers to national and regional markets by forming them into cooperative groups and networking them with local community development councils.
Numbers and facts
12,458 farmers were trained under the project
20% of farmer beneficiaries are female
Formed 127 male and 55 female farmer cooperatives
Built 2,807 zero-energy storage facilities for potatoes and onions in Bamyan, Kabul, and Parwan
Reduced from 40% to 3% the post-harvest losses for potatoes
Reduced from 40% to 19% the post-harvest losses for onions
Results
Reduced Spoilage and Strengthened Farmer Groups
The project began in 2012 and ended in June 2017. From Bamyan Province, it spread the construction and use of potato storage facilities to Kabul and Parwan, building over 2,800 potato and onion storage facilities. These structures helped reduced losses in potato and onion harvests—potato spoilage declined from 40% to 3%, while onion losses went down from 40% to 19%.
It also trained 12,458 farmers, of whom 20% are female, in agriculture production practices, integrated pest management, and pre- and post-harvest handling and management. It also formed 127 male farmer cooperatives and 55 female farmer cooperatives in the Sheber District. These became their access points for improved seeds, planting techniques, and training.
Lessons
A Comprehensive and Participatory Approach
This project highlights the need to look into the elements of the agricultural value chains to determine at which point the farmers need the most assistance. This strategy ensures that all aspects of the agribusiness are made more efficient, which contributes to higher production and incomes, and lowers losses. Moreover, the comprehensive approach ensures that beneficiaries' capacity to engage in profitable ventures is developed in tandem with the facilities. The project enhanced linkages among agribusiness stakeholders too, helping stimulate local economies.
This project was able to provide a solution that was most suitable to the country's rural poor, not by reinventing the wheel, but by replicating a pro-poor designed storage facility. These structures were easy and affordable to build and maintain. This type of design directly targets and empowers impoverished beneficiaries because they can easily replicate it, even beyond project duration.
The project also promoted collaboration and participation. It gave farmers access to services that enabled them to productively engage in rural development. By establishing demonstration plots, engaging with farmers in cultivation, and providing extension services, the project was able to provide both male and female farmers access points for capacity building, market linkages, and other agriculture services.
Resources
Asian Development Bank (ADB). Afghanistan: Enhanced Value Chains Project. 
ADB. 2016. Afghanistan: A Simple Solution for Farmers. Project Result/Case Study. 13 April.
Leave your question or comment in the section below:
---
YOU MIGHT ALSO LIKE
---
---
Disclaimer
The views expressed on this website are those of the authors and do not necessarily reflect the views and policies of the Asian Development Bank (ADB) or its Board of Governors or the governments they represent. ADB does not guarantee the accuracy of the data included in this publication and accepts no responsibility for any consequence of their use. By making any designation of or reference to a particular territory or geographic area, or by using the term "country" in this document, ADB does not intend to make any judgments as to the legal or other status of any territory or area.
---
Was this article useful?
---