SUMMARY
Improving Post-Primary Education Outcomes in Myanmar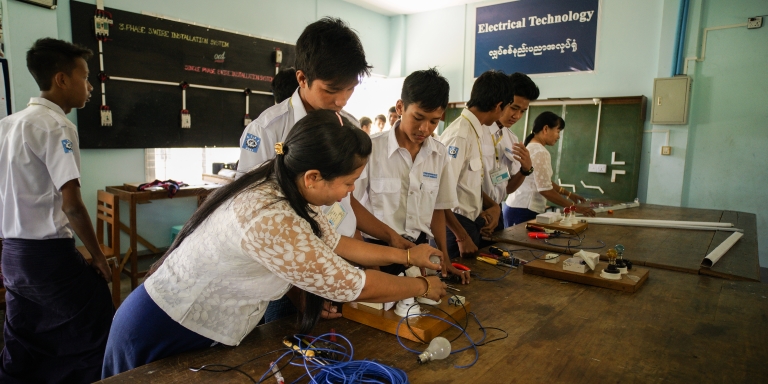 Secondary education poses a critical "choke point" in Myanmar's education system and requires reforms of curriculum, teaching, and student assessment.
Overview
Problems with post-primary education pose an increasingly binding constraint to the flow of skills into society and the economy. In particular, secondary education is marked by high rates of student dropout and failure to graduate, leaving the majority of youth without access to most forms of technical and vocational education training (TVET) or higher education.
This study analyzes the issues affecting enrollment levels, grade progression, and exit from education, and provides insights into the links between education quality, management, and attainment.
Analysis in the report principally draws on data from three sources: the Education Management Information System of Myanmar's Ministry of Education; the Integrated Household Living Conditions Survey; and an ADB-funded survey of nearly 800 post-primary and secondary schools of different types in selected townships spanning all states and regions.
Continue reading
Myanmar
,
Education
Last updated: November 2016
---
Disclaimer
The views expressed in these articles are those of the authors and do not necessarily reflect the views of the Asian Development Bank, its management, its Board of Directors, or its members.
---
Was this article useful?
---