INSIGHT
Big Factory Meets Little Tech
Insights
First, tech gains, then a cultural impact
In addition to the immediate technology gains, manufacturers are looking for insight into the kind of digital innovations that can disrupt entire industries. They hope collaboration will help inject their organizations with an entrepreneurial mindset, so that employees are digitally fluent and can pivot swiftly. This could contribute to an innovative company brand that attracts customers, business partners, and talent.
Startups, for their part, will gain enhanced visibility and status in the corporate world. They might also obtain access to their large partners' distribution networks and customer bases.
The forms of collaboration range from one-off events, such as hackathons, to resource sharing and support through business incubators and accelerators, to longer-term arrangements such as partnerships, investments, and acquisitions. Often, the relationship starts when a manufacturer scouts emerging ideas, technologies, and market segments that could augment its business. It then establishes connections in the digital community to get direct access to entrepreneurs, inventors, and innovators.
As a next step, a large company could provide financial and material support—workspace, for example—as well as advice during early-stage business development. Then it could invest or form commercial partnerships to keep exclusive access to the new innovations in their industry.
The most advanced industrial companies have developed programs with startups to challenge the status quo, experiment outside their core business, and become more innovative (see Exhibit 1). Soon this may be the new normal for manufacturers.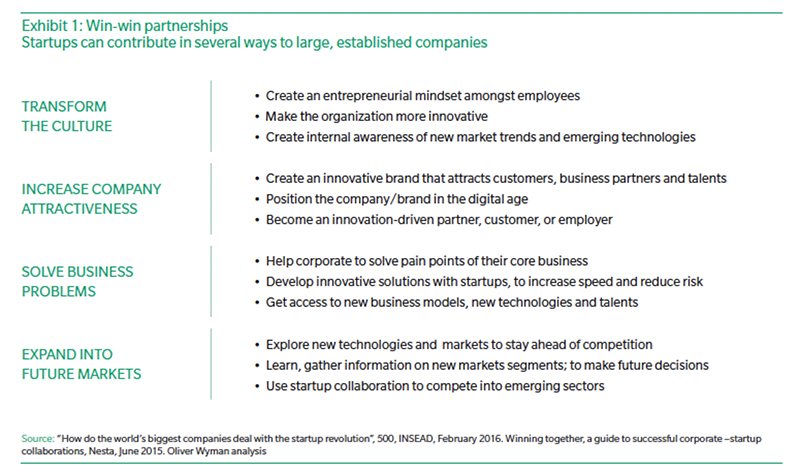 ---
Disclaimer
The views expressed in these articles are those of the authors and do not necessarily reflect the views of the Asian Development Bank, its management, its Board of Directors, or its members.
---
Was this article useful?
---