CASE STUDY
How Ciclovia's Car-Free Days Give Bogota Room to Breathe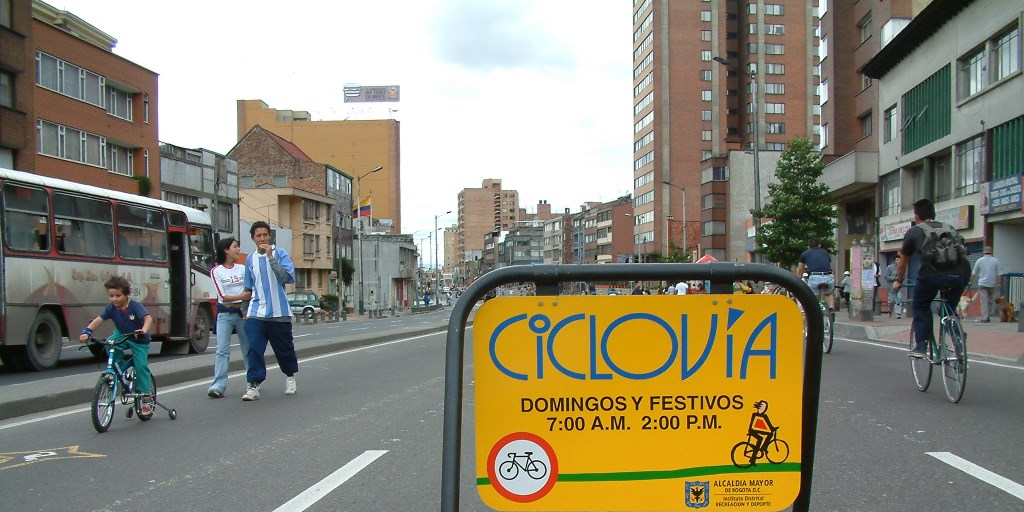 Ciclovia, Bogota's car-free days, has inspired more than 100 cities to make space for walking and cycling to improve public health and the environment.
Overview
Bogotá introduced the Ciclovía car-free days in 1974, inspiring similar programs in more than 100 cities around the world. On Sundays and holidays, the city closes 121 kilometers (km) of roads to motor vehicles, reserving these for cyclists, skaters, and pedestrians. The Ciclovía routes connect all parts of the city, creating a space where all residents—rich and poor, old and young alike—can exercise, play, and interact.
Like other rapidly urbanizing cities, Columbia's capital has had to deal with overcrowding in public transport, traffic congestion, and pollution. Though it was started as a recreational program, Ciclovía has helped to promote cycling as a low-cost, zero-emission alternative to cars and buses.
Project snapshot
1974: Start of program - the first Ciclovía took place from 9 a.m. to 12 nn on two streets near the city center.
1976: Fully operational - more than 40 km of streets were reserved for the program.
1995: Establishment of the Instituto Distrital de Recreación y Deporte (IDRD)
2006: Relaunched
$17,676 annually (as of 2012): Operational cost to the city, per kilometer
$7.2 million annually (as of 2012): Total program cost
Management

Instituto Distrital de Recreación y Deporte or IDRD: Institute of Sports and Recreation
Executing agency
Secretaría de Tránsito y Transporte: Department of Traffic and Transportation
Instituto de Cultura y Turismo: Institute of Culture and Tourism
Mayor's Office
Financing
Municipal government and private sponsors
Continue reading
Colombia
,
Environment
,
Transport
Last updated: May 2016
---
Disclaimer
The views expressed in these articles are those of the authors and do not necessarily reflect the views of the Asian Development Bank, its management, its Board of Directors, or its members.
---
Was this article useful?
---