CASE STUDY
Creating Green Spaces in Guangzhou City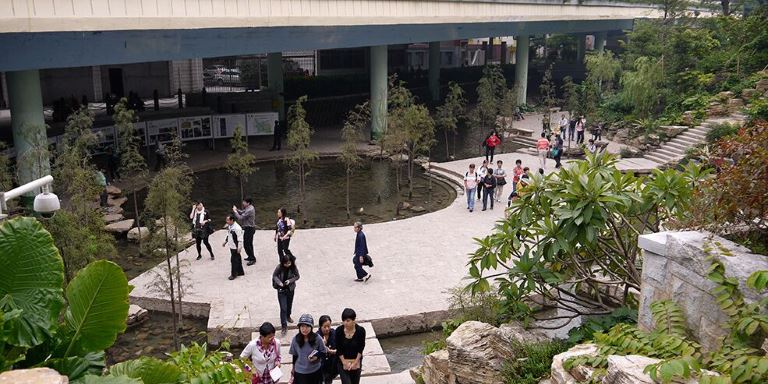 Guangzhou's Donghaochong Greenway is one of the best examples in the People's Republic of China for improving public space and mobility in a congested city.
Overview
The Donghaochong Greenway in Guangzhou is a model for creating green spaces for recreation and increased mobility in a highly congested city. It features a landscaped corridor with winding walkways and bicycle paths, and a restored stream under an elevated highway.
Opened in 2010, Donghaochong Greenway is part of an ambitious project to develop high-quality green spaces throughout Guangzhou, the third largest city in the People's Republic of China (PRC). By 2013, the municipal government had developed over 3,000 kilometers (km) of greenways. The project has helped improve living conditions for residents and raised land values in the surrounding areas.
Project snapshot
2009: Construction
July 2010: Operation
CNY30 billion ($4.8 billion in 2012 equivalent): Total investment in greenways
CNY1.038 billion ($1.68 billion 2012 equivalent): Total cost of 1.89 km canal reclamation
Financing

Guangzhou municipal government
Planning and design
Guangzhou Communication Commission
Executing agency
Guangzhou Communication Commission
Continue reading
People's Republic of China
,
Environment
,
Transport
,
Urban development
Last updated: August 2016
---
Disclaimer
The views expressed in these articles are those of the authors and do not necessarily reflect the views of the Asian Development Bank, its management, its Board of Directors, or its members.
---
Was this article useful?
---