CASE STUDY
CicloRutas Transform Bogotá into a Bicycle-Friendly City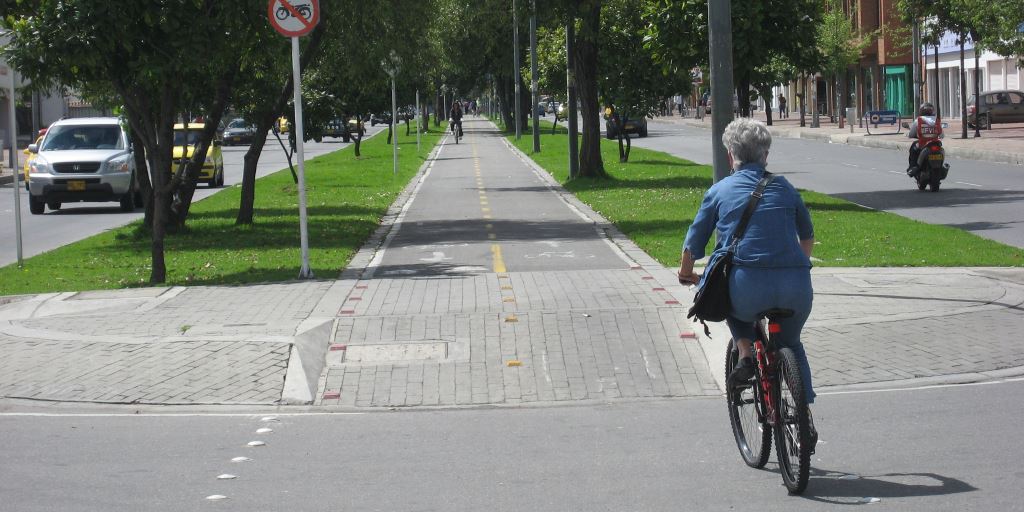 Colombia's capital Bogotá has made it safe and easy to travel by bicycle to work or school by creating a 376-kilometer grid of bike paths, called CicloRutas.
Overview
Bogotá has created a 376-kilometer (km) grid of bicycle-only lanes to promote cycling as a low-cost, zero-emission means of transport in the traffic-riddled city. The CicloRutas or bicycle routes interconnect the city center, residential areas, TransMilenio bus stations, and parks and attractions.
CicloRutas have made it safe and faster to travel by bicycle in Bogotá. Average speed on a CicloRuta is 17 kilometers per hour (km/h), compared with 13 km/h for public transit during the rush hour. As a result, bicycle usage has increased to 5% by 2010 from less than 1%. The city's transportation department estimates that about 450,000 trips are made on the bicycle routes every day.
Project snapshot
1996: Start of project under Mayor Antanas Mockus
1998: Bogotá's 1998-2001 Development Plan - Under Mayor Enrique Peñalosa, CicloRuta project is an integral part of the plan under the Mobility chapter.
1999: Cycle Routes Master Plan
2000: 180 km of bike paths
2001: Expansion - Cicloruta expansion plan launched for Secondary Network
2006: Mobility Master Plan
2011: Continued expansion
$50.25 million: Initial investment for the study, design, and construction in 1996
$147,000: Initial cost per kilometer for construction in 1996
$2 million ($2.1 million in 2012): The city of Bogotá spent for maintenance of the CicloRuta network in 2010
Financing
City government: Grant from the World Bank in 1996 for the first CicloRuta lanes
Management
Instituto de Desarrollo Urbano: IDU, Urban Planning Department in English
Continue reading
Colombia
,
Environment
,
Transport
Last updated: May 2016
---
Disclaimer
The views expressed in these articles are those of the authors and do not necessarily reflect the views of the Asian Development Bank, its management, its Board of Directors, or its members.
---
Was this article useful?
---